NWTF Calls Our Major Political Parties for Excluding Women Politically.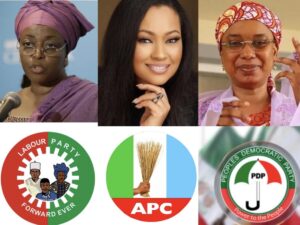 The Nigerian Women Trust Fund (NWTF) has highlighted political parties as a significant cause of the poor representation of women in the country's political space. NWTF's chief executive officer, Mufuliat Fijabi, spoke out during a workshop on gender-responsive policy-making in Abuja, deploring the low number of women elected representatives in the 2023 general elections. Fijabi called on political parties to support and encourage women by ensuring gender inclusion and a level playing ground within the party structure.
Fijabi emphasized that the level of gender inclusion in Nigeria's political space is still very low, and the 2023 elections demonstrated that there is a long way to go before women are included and emerge as elected representatives. Thus, NWTF will hold all political parties accountable for the low representation of women in the political space, she added.
NWTF Calls Our Major Political Parties for Excluding Women Politically.
Santiago Stocker, Nigeria's resident programme director of the International Republican Institute (IRI), stressed the need for more strategies to ensure gender-responsive policy-making. Stocker noted that policy-making is a critical part of the governance process, and gender integration is essential to address the challenges of women's participation and service delivery. He emphasized that political parties are a microcosm of the larger political process, and if parties are inclusive, transparent, and dedicated to policy-making that addresses the needs of their supporters and constituents, this will be reflected in the overall political system.
Dudu Manuga, the national women leader of the Labour Party, announced that the party is building the capacity of women to take up major leadership roles within its structure and beyond. Manuga stressed that by 2027, when the party has its congresses, it aims to have more women in the party structure, not just women leaders. Manuga also encouraged women to come forward and stressed that politics is not just for men, and without women on the table, the issues of women cannot be carried out properly in governance.
Read More: Gov. Umahi Sacks Perm. Sec For Miscalculating Gratuities
NWTF Calls Our Major Political Parties for Excluding Women Politically.
The poor representation of women in Nigeria's political space is a persistent issue, and it is essential to address this issue to ensure that the needs of women are taken into account in policy-making and governance. Political parties play a critical role in shaping the political process, and they must ensure gender inclusion and provide a level playing ground for women to participate and succeed in politics. It is encouraging to see organizations such as NWTF and IRI working towards this goal, and it is crucial to continue these efforts to achieve more gender-responsive policy-making and inclusive governance in Nigeria.