On March 19, 2023, six Independent National Electoral Commission (INEC) officials who had participated in the Kogi State House of Assembly election were kidnapped in Obajana, Kogi State, Nigeria. Bandits Demand ₦50M for The Release of Abducted Adhoc Officials.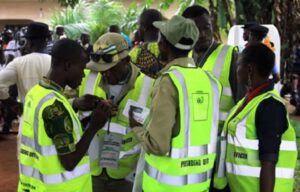 The victims were returning from Kupa North and South under Lokoja Local Government Area in Kogi State when they were attacked by armed hoodlums. The abducted officials included Oyaniran Atinuke Ruth, Florence Shayo Ajayi, Opara Tina, Blessing, Mohammed Maimunat, and Abdulrahaman Raji, who were ad-hoc staff of INEC.
While the police rescued 96 persons, three were injured and two victims were yet to be accounted for, according to a statement issued by the Kogi State Police Public Relations Officer, SP William Aya. However, at a press conference on March 27, 2023, an Assistant Presiding Officer II in the March 18 Kogi House of Assembly election identified as Babalola Peter, who is the brother to one of the victims, said that his sister and five other INEC officials were still in the kidnappers' custody, and the abductors had demanded a ransom of N50 million for their release. Bandits Demand ₦50M for The Release of Abducted Adhoc Officials.
Peter, who disputed the police's claim that all the victims had been rescued, said that the kidnappers kept calling the families with different numbers, and the families could not call them. Peter also recounted how the incident occurred, stating that they were asked to move to Lokoja after the Kupa North and South elections, but he and other corps members suggested they sleep over until the next day, as they had done during the presidential election. However, they were asked to move, and when they got to Obajana, the armed robbers attacked them. The first vehicle was able to move away, while the second vehicle mistakenly hit the culvert and could not move again. Before they knew what was happening, the third vehicle hit them at the back, and they had to run for their dear life. Bandits Demand ₦50M for The Release of Abducted Adhoc Officials. 
Read Also: PDP: Ayu Debunks Suspension Rumor
Peter called on the government and security agencies to work towards the release of the abducted officials, while Olawafemi Olakanmi, the husband of one of the kidnapped victims, Florence Shayo Ajayi, said he had not slept since his wife was kidnapped and only called on God to set his wife free.