Omeife; Africa's First Humanoid Robot Unveiled
Here is about Omeife and all you should Know about the Africa First Humanoid Robot. Omeife, Africa's first humanoid robot was built by one of Nigeria's fastest growing tech hub, Uniccon. The development of the 6-feet multilingual humanoid started way back in 2020, despite the great hurdle, the company held to it's development and today it has become the Africa's first humanoid robot to exist.
This is something worth of recognition in the African history. Recently the humanoid robot was inaugurated by the Federal Government of Nigeria. Read also: Mineral Resources in Nigeria, Locations and uses – Natural Resources 2022
Omeife – All you should Know about the Africa First Humanoid Robot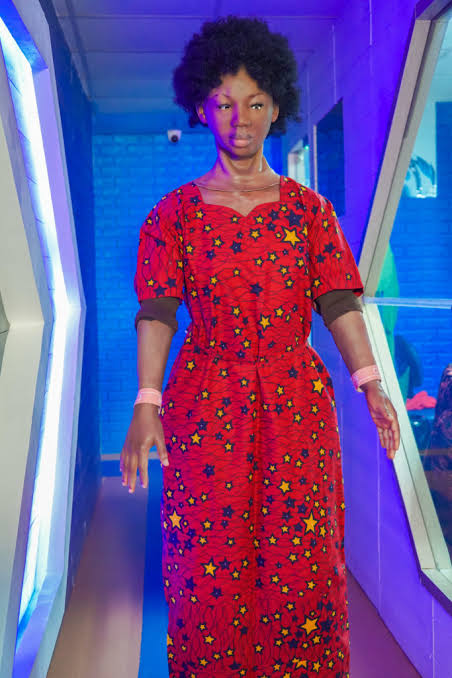 This is the first question that will come to the minds of people when they see such development. However, Omeife by gender is categorized as a female, this makes it's visibility to be more noticeable, moreover female humanoids are much more empowered to be smarter than their counterparts.
Omeife was developed by experienced and well knowledge Nigerian software engineers. The team behind the development did a great work by instilling in Omeife what the culture of different parts of Africa says. Omeife – All you should Know about the Africa's First Humanoid Robot.
In an interview, the CEO Chuks Ekwueme, described that the humanoid robot is capable of taking into consideration her environment. Not just that, he added that it is capable of recording realtime data, processing it and giving it's take even in a trending matter that has never happened before.
Going further to describe the awesome contribution of the humanoid, Chuks Ekwueme added that, "It's not just multilingual, it has the ability to switch languages and interact with specific gestures which include hand illustrations, smiles and other bodily gestures that match the tone of the conversation".
The humanoid is capable of speaking and translation into 7 distinctive commonly spoken African languages which include: Igbo, English, Yoruba, Hausa, French, Arabic, Kiswahili, Pidgin, Wazobia and Afrikaans.
Omeife – All you should Know about the Africa First Humanoid Robot
Further interactions with the founder of the company relayed that, the robot despite being built to fall in line and keep conversations active, it does not have the ability to feign sadness or displeasure. The robot lacks emotional and psychological balance and as such would not be able to show empathy when necessary. These are things the Engineers may want to take into consideration as it has sparked reactions.
Still on, the robot has the ability to detect terrains, and adjust itself for proper balancing, not to forget that it has a grip sensor that helps it understand how and where to hold objects, to understand the shape and proper sizing of objects with it's fingers. You may read also about Hospitals in Nigeria to Carry Out Kidney Transplant (Private & Public).
Robotics is gradually breaking grounds in Africa, not only in Nigeria but other African countries too. In South Africa, and engineer by name Abdul Malik Tenjan-Sie is currently on the a mission to develop south Afrcia's first humanoid robot. Years back in 2018, efforts were made by a Ghananian engineer, Richard Holdbrook, fortunately he was able to develope a prototype design.
Comparing the look of Omeife to the looks of other humanoids, there's a lot of features that may seem unfinished, the company has further plans to advance the look of Omeife in further upgrades and advancement.
Omeife Humanoid robot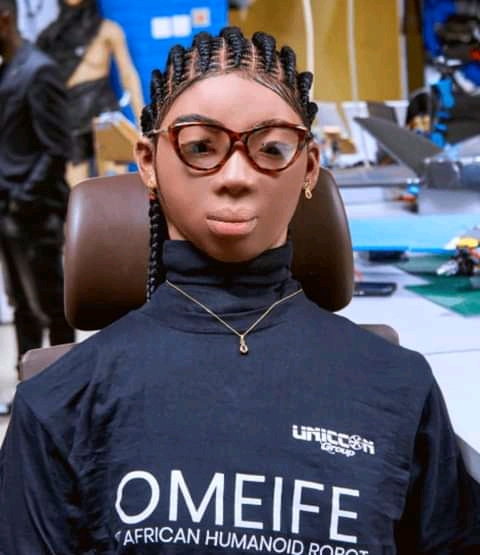 Omeife is Africa's first humanoid robot, and it's set to change the face of robotics. Developed in Nigeria by a team of engineers, Omeife is the first of its kind on the African continent, and it's quickly gaining traction in the global robotics industry. The robot stands at 1.5 meters tall and has a humanoid shape, with two arms and two legs, as well as a face that can express emotions.
What's even more impressive is that it is capable of basic human movements, such as walking, talking, and even dancing. Omeife is a remarkable achievement, and its implications for the future are far-reaching. It not only has the potential to revolutionize robotics in Africa, but it may also be a step towards the development of more sophisticated robots that can perform complex tasks.
With its groundbreaking capabilities, Omeife is set to be a game-changer in the world of robotics and set the stage for more advanced robotics in the future.
What works can Omeife Robot do?
This question is more like the first question posed above. We just want to put the question strsight this time and also try to put the answers straight too.
The 6-foot-tall, multilingual Omeife robot, which is also called Omeife, was introduced by the Uniccon group, a Nigerian technology business. Omeife was launched on Friday in Abuja. Omeife is the first African humanoid to be virtually human-like and adept in language, movement, navigation, and behavioral intelligence employing AI and computer vision skills.
It is an adaptable, helpful robot that has been taught to understand the cultural norms and behavioral patterns of Africa.
Omeife humanoid robot speaks the following languages fluently: Yoruba, Hausa, Igbo, French, Arabic, Kiswahili, Pidgin, Wazobia, Afrikaans. English language is also among Omeife's 8 language skills.
What Does The Future Hold For Africa regarding Humanoid Robot?
The team hopes that Omeife will be used in healthcare, education, and other fields to help improve the quality of life for people in Africa. The robot has already been used in a number of public demonstrations, and the team is now working on commercializing the technology.
Also they have plans to make it a worldclass robot, although they have strings of sentiments that the big nations are likely not to allow it to outshine them, adding that they don't seem to see any value from Africa. This the team behind the wonderful robot are working had to change the narrative for Africa.
This is to say that without the approval of other nations of the world, Africa can mass produce and distribute technological equipment in Africa. There's nothing special in what others produce, only refinement is needed.
Building robots is a huge undertaking so much that every little progress is celebrated. Tesla's Optimus after two years could only wave and do a stifling dance move, yet the company was proud enough to unveil it. Ekwueme said the company will keep modeling this first version of Omeife—more languages, aesthetic improvement, more advance mobility and vision in subsequent upgrades.
Speaking about being in competition with the CEO of Tesla Elon Musk regarding the proposed price of the market value of Omeife humanoid, Chuks added that his humanoid would sell from a starting price of about $30,000 while that of Elon when available would sell starting from $20,000. So long as he knows the worth of his good, there's no reason not to sell it for any amount that he wants.
What is the Meaning of Omeife?
Omeife is an Igbo language meaning doer of great things. Although great literally is absent in Omeife, it still what it means. When someone is addressed as Omeife, it means the person does what others are not doing or have not done.
Probably, the name Omeife is given to the first African humanoid robot to show it is created to do exploit. Not just an ordinary robot but the one with great skills.
Omeife – All you should Know about the Africa First Humanoid Robot
Conclusion
This is a nice shot for Nigeria and other African countries to compete in the production of humanoids. Though they may be used to do things that are extremely difficult for humans, they are not supposed to take away jobs that serve as a means of livelihood for the growing African population.
The production and expansion of Omeife is worth investing in by the government, it will go a long way to help the company improve significantly, generate more revenue for the country and in turn bee of great help to the nation.
Using the humanoids for educational purposes will be of great value since the current version was developed for intellectual strength. Ekwueme and his team have only just begun their journey in building a robot. While it may be more tasking to drive global acceptance and adoption for the robot, sheer will is important while building in uncharted territory.
This worked for Musk, and it just might work for Ekwueme too. It is especially important now, at a pivotal point where the African technology space is gaining lots of attention and investment interest, to diversify and build exportable deep tech solutions.