Madam Social Biography, Age, Career and Net Worth – Mama Roseline Onwujekwe
Anyone who does not know Madam social is probably because the person is not from the East or the person is not regular with the trending slang in Nigeria this 2021. Madam Social is among the maker and the promoter of slang. Madam Social Biography, Age, Career, and Net Worth – Mama Roseline Onwujekwe.



"Nwanne, kam piayizielu gi olu", "kam gbuwaalu gi ya" maka ndi high-way, umuaka high way". etc. There is no video of Madam social that you will not hear one heavy slang or the other. The funny clips she posts earned her the title 'Madam social'. Read: Methylated Spirit Vs Chlorhexidine Gel for newborn umbilical cord care, which is better?
This is not the first time I have come across captivating posts and speeches of Mama Roseline Onwujekwe aka Madam Social. But just recently, I saw another post by her saying; "never you trust life. Opportunities can come at any stage of life. If anyone tells me I would become a millionaire at the age of 81, I would not agree".
I saw the video first on BBC and in other social media posts. I was so caught up with her short but life-fact motivational talk. I decided to give a peep at her profile and what I found out will interest you. here is the Madam Social Biography, Age, Career, and Net Worth.
Madam Social Biography
Mama Roseline Onwujekwe aka Mama social is a comedienne who came into the limelight last year. According to the report, she was born in Nri and Married in Nibo, all in Anambra State.
Age
How old is Madam Social? She was born in the year 1940. She is currently 81 years.
Family and Career
There is no information about Madam social about her family that is available on the internet. The only close relative known is @McShade who is popular on Instagram. Some people say McShade is Madam social's grandson, other reports say he is her nephew.
MCShade helps Madam Social to manage her social media pages. It was actually through his constant postings of Madam Social hot talks Mama became popular on the Internet.
Madam Social is well-spoken but we cannot say about her educational qualifications. We are sure she attained the required standard six to be able to read and write and well articulated in the English language.
According to a news source, Madam Social is a retired Civil servant. She ventured into Kerosine selling after her retirement. She is well known in her area as a kerosine seller.
She has won many followers on her page for her comedy skits which she released in the form of advice most of the time. Madam Social was over the week nominated by SUNCity Africa as the Comedian of the year in the Entertainment category among other popular comedians and Comediennes.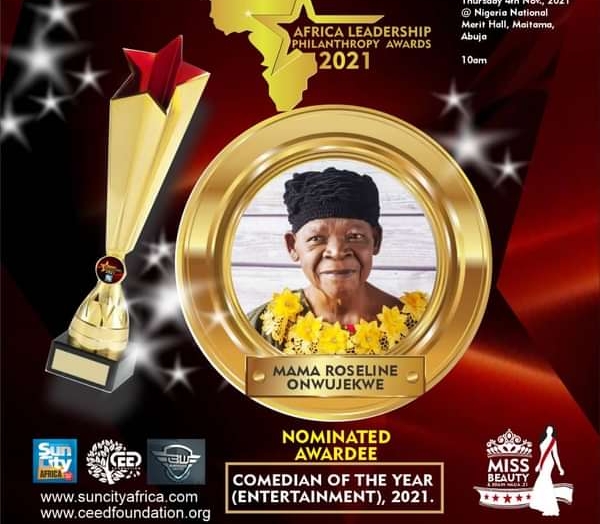 Madam Social Net Worth
How much is the Net worth of Madam Social? Her Net Worth is estimated at $3,000 (N1.5 million).
It is on the internet that she is a millionaire. In fact, she testified by herself. She was gifted N1 million Naira by Flavour N'abania and his group.
Apart from receiving financial favor from Flavour, Madam Social has also had the privilege to speak with the Nigerian Billionaire and Business, E-money. The live telephone call came at the time when it was rumored that Madam Social was hospitalized and needed money to pay the hospital bill.
She was said to battle hearing and speaking difficulties. This actually took her away from social media for some time since she was not able to hear or speak.
However, she pulled through the ailment and settled the hospital bills with the help of the kindhearted Nigerians. Madam Social is back on her feet again, making her fans happy with her funny but didactic skits.
Mama Roseline Onwujekwe (Madam Social) Biography, Age, Career and Net Worth
Her Touching Story
One of the life lessons to learn from Madam Social life story is that there is no lateness in destiny. To me, I learn to accept whatever fate drops to our doorstep.
If there is anyone to break down and lose hope in life, it should be Mama Roseline Onwujekwe. I said this because of what she has passed through in her life. In one of the interviews, she was asked what motivated her to go into comedy. She responded that she lost her grown-up sons a few years ago.
According to her, she lost her two sons to death which made her suffer from a stroke. However, she eventually survived the attack and recover from the shock of the death of her sons.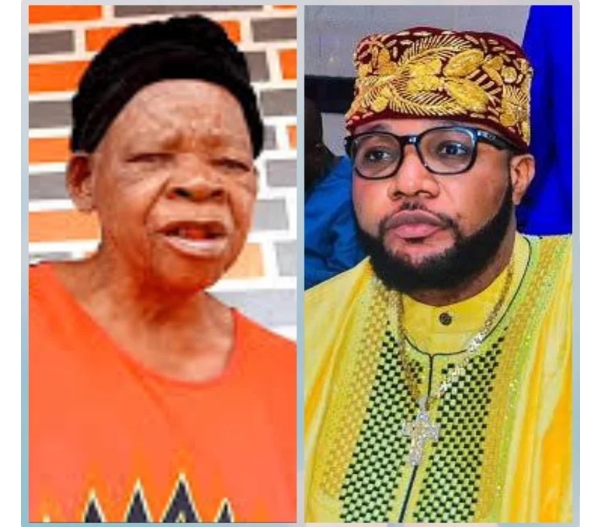 Conclusion
If you can't learn anything from the life of this woman, you should learn that there is no lateness as far as life is concerned. Anybody can make it in life at any time. What you need is patient and accept whatever life has to offer at this moment and hope for a better tomorrow.
There is this Igbo adage that says; "mgbe onye jiri teta ura o buru ututu ya" meaning, anytime one wakes from night sleep is one's morning. Some may wake up at 3 a.m, others at 4 or 5 a.m. There are those who will still wake at 9 or 10 a.m.
All of these times are morning time. What matters is what you do with the rest of your time when you wake. That is just the logic of life.
At 81, Madam Social has begun to make financial progress and popularity which never came her way at her youthful age. Even with her age, she doesn't care. She talks with joy and happiness. Her morning came at age 80.
'Na person wey get patient and endurance go see morning'. Learn from Mama's life and take life softly.