Intech Ads Network Review
Intech Ads network is among the good Ads networks you can trust when considering monetization for your website and also to advertise your works to the world. Here is all you need to know about Intech Ads. Intech Ads Network Review.
Have you applied for Google Adsense multiple times but still haven't gotten approval? Are you looking for Google AdSense alternative? or you are looking for a good ads company you can combine google Adsense with? This post is for you.
Intech ads is an ads company where marketers/advertisers go to market their product. When they do this, the adverts they placed will be displayed on the blogs of already registered publishers or blog owners. The blog owner/ publisher will earn commissions based on impressions and clicks. It works the same way Google ads work.
TRENDING STORY RIGHT NOW:
THIS IS HOW TO REPORT A BLOG THAT COPIED OR PLAGIARIZED YOUR ARTICLE.f
Intech Ads Network Review – Ads Network for Publisher and Advertiser
There are different ways to earn from a blog but ad networks seem to be the most popular. Why? because ad networks pay for impressions. The publisher gets paid when a user just reads his blog without performing any action.
Intech ads network was birthed by Intech organization, a Nigerian tech company that has many online services to their credit. Some of their services include Intechads, Intechcloudhosting, Intechvault, Inurl, and Intechwebpage.
Intech is an alternative for Adsense and it works perfectly especially if you have a Nigerian audience. I know the question that might be ringing in your mind now is, is in tech ads legit? How sure am I that it will pay when I reach the maximum threshold? The question will be answered in the next subtopic
According to bloggers/website owners who are currently using the ads network, Intech ads has no bad review as of now. That is to say that Intech ads are safe for trial. Many pro bloggers and experienced marketers have also given a good review so its worthy of a trial
Another good thing about Intech ads is the way they structured their ads formats. The adverts are structured in a way that will not disturb your readers in any way. It has the same ads format as Google ads.
Intech ads are hosted in a trustworthy hosting company known as Namecheap, Inc, US and registered under a top-level domain
Types of Ads Campaign You can Create on Intech Ads
1. TEXT ADS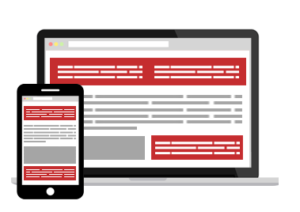 Marketers utilize text and text links to advertise their brand, message, and products through text advertising. The most basic online ad format provided by Intech Ads is a text ad. The title, description, display URL, and click URL are the four sections.
Because the headline of your advert is going to be the most visible section of it, use the most important keywords in it. Details regarding your product or service should be added to the description. The display URL is used to provide further is information about the ad's intended destination. Intech ads made sure they provided their advertisers with this ad format.
2. Intech Ads BANNER ADS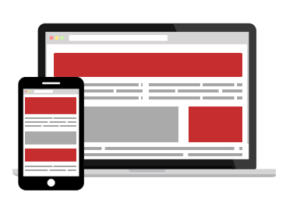 As it is said, a picture is worth more than a thousand words. Intech ads also offer banner ads in a way that won't disturb your audience. A banner ad is a type of ADS that stays in between articles while a user is reading your blog. The visual picture and the click link are the two elements of a banner ad. You may use images to attract people's user's attention retention rates.
Intech Ads Network Review – Ads Network for Publisher and Advertiser
3. Intech Ads TEXT+ IMAGE ADs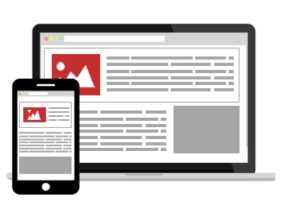 In a Text+IMAGE ADS, you create both a text and image ad in a single ad campaign. It's also known as "Facebook-style" advertisements. The images used in this ad type are often lower in size than those used in traditional banner advertising.
4. Intech Ads INTERSTITIAL ADS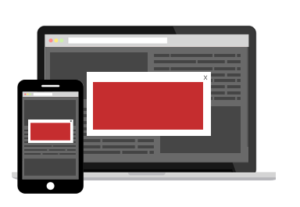 Interstitial advertisements are full-screen interactive advertising that overlay the surface of the app or website they're displayed on.
5.  Intech Ads E-COMMERCE ADS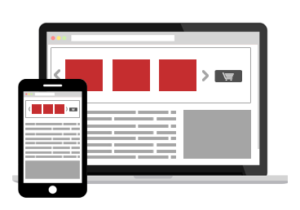 This is a unique style of ad. only a few ads network offer this kind of ads campaign. It is mainly those who have online shops. It comes in a text and image format.
6. Intech Ads VIDEO ADS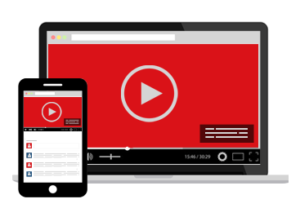 Video ads are another good mode of ads. It is a short but descriptive video showing important information about your product so as to attract your target audience.
How to Register on Intech Ads Network
There are two ways to register on Intech ads. You can either register as an Advertiser or a publisher. An advertiser is a business owner or a brand who want their product to reach more audience while a publisher is a blogger or a website owner who makes money when these ads are published in his/her blog
 As an Advertiser on Intech Ads
With Intech ads, you can generate enough traffic to your business website, blog, affiliate link, or any link of your choice. They make sure that your advert campaigns only drive unique visitors.
Registering as an advertiser on Intech ads only requires three simple steps
1. Sign up – This is where you a free create an account as an advertiser. To do this,
-Visit the Intech ads website
-Click on the menu icon at the left-hand side of the website
-A list of options will appear. Click on "Advertisers"
-A webpage will appear where you will see all you need to know about registering as an advertiser on Intech ads
-Click on "Get Started Now" and complete the signup
2. Create Ads- This is when you create your ads campaign and target your audience
3. Increase Leads- When you are done with ads creation and payments, Intech ads will market your product or service which you can monitor through your dashboard
Intech Ads Network Review – Ads Network for Publisher and Advertiser
As a Publisher on Intech Ads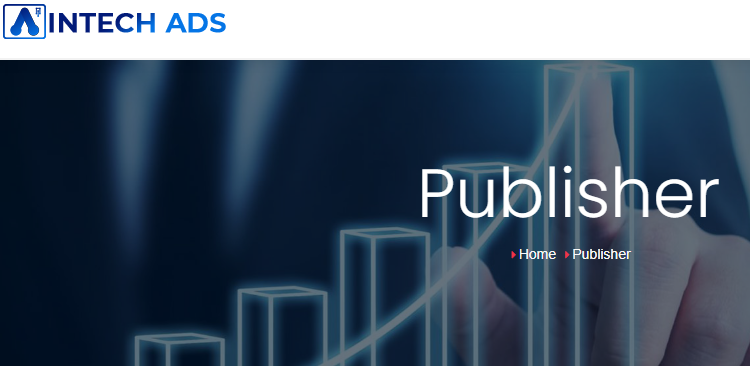 You can monetize your website traffic with Intech ads. With their different ad format, you can easily choose the one that you like and would suit your audience too. Registering as a publisher only requires three steps just like that of registering as an advertiser.
1. Sign Up- This is where you create your account as a publisher. It is super easy to do
-Click on "publisher" on the homepage to create your publisher account
-Fill out the information required and click on sign up
2. Insert Ad code
when you are done signing up, the next step is to generate ad  code and insert it on your website so it will start showing ads
3. Earn Money- Now you are done with inserting ad code and Intech ads are now displaying on your site. What you need to do now is to monitor and try to increase your website earnings so as to increase your earning.
Intech Ads Affiliate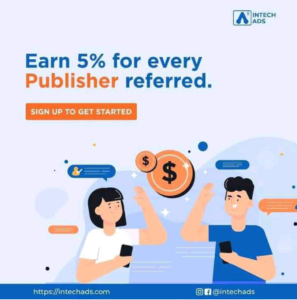 Intech ads also have an affiliate network which helps them expand and make their business reach more people. When you sign up for Intech ads affiliate, you got some commission when the person you refer makes earnings. Registering for Intech Ads is as easy as anything you can think of. To partake in Intech ads affiliate, you must have registered either as a publisher or an advertiser
-Log on to your Intech ads dashboard
-Click on affiliate as shown in the image below and go further with steps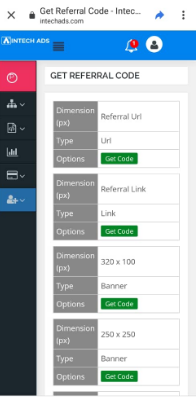 What is the Minimum Payout in Intech Ads?
This is as important as anything else. It is necessary to know the minimum payout of any ads network before you join. Especially for new ads networks.
Why? Even if there are might be many good reviews on an ad network, some of them might end up not paying. The reason is that either the reviews were faked or it doesn't just work for you. That is why you need to choose an ad network with a low minimum payout so you can easily test the network within a week and know whether it really pays.
Intech ads have a very low minimum amount of payout wish you can accumulate within a week or maybe in 2-3days if you have enough traffic. The minimum payout ranges between NGN400 and NGN1500 for publishers.
Mode of Payment on Intech Ads
The following payment options are presently accepted by Intech Ads:
Flutterwave
Bank transfer
How to Earn More on Intech Ads
Target Nigerian Audience:
Intech being a Nigerian ad company makes its advertiser mostly Nigerians who are probably targeting Nigeria's audience.  There is one thing you should know about ad networks, they pay more of your audience contains their target audience.
Ads Placement:
Make sure your ads codes are in the appropriate spot. Placement of ad formats designed for desktop computers on mobile devices is not recommended.
Also, to add advertisements to your blog, install the advanced ads plugin if you're a WordPress user.
 Avoid Utilizing Pop-Up Advertisements:
Avoid using pop-up ads on your site since they may compete for attention, resulting in ad dilution.
Frequently Asked Questions about Intech Ads Network Review
Question– Can Intech ads be merged with Google Adsense?
Answer– Yes. Both ads networks work perfectly well.
Question– Can I Intech Ads work on my Blogger blog?
Answer- Yes, you can use Intech Ads on any website.
Intech Ads Network Review
Question- Is Intech Ads legit or a scam?
Answer- Many are testifying positively. So far there has not been a bad review about them, it is legit. So, Intech Ads Network is worth trying.
Question– I have Foreign Audience, can I earn more on Intech Ads?
Answer- Most of the Intech ads advertisers are targeting Nigerian audiences. So, I doubt you are going to earn that much with a foreign audience.
Question– How can I place the Intech Ads code on my website?
Answer- You will be guided on this on Intech Website.
The Summary – Intech Ads Network Review
We make research every day to provide articles that we feel might be of help to you. So, do well to share the articles and also subscribe to our NOTIFICATION so as to get notified anytime we drop a post.
I hope this article will be of help to you. Cheers!