Genevieve is 42 How many I come dey?
"Genevieve is 42 How many I come dey?" Fan reacts as Genevieve marks 42nd year's Birthday.



The Nollywood goddess and single Mom, Genevieve Nnaji were celebrated by her many fans as she marked her 42nd year's birthday. Mant took to Twitter and other social media handles to wish her well and prayed for better years ahead for her.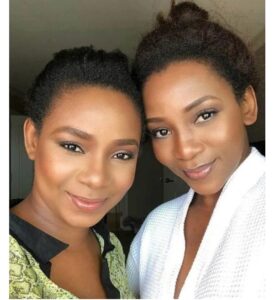 But there is something some of her fans were pointing at. It was her age. Some of them seem not to be comfortable with the number of years the well-respected celebrity has claimed.
Someone remarked that Genevieve looks older than 42. But another fan had more than that to say. She was making a comparison between Genevieve's age and hers.



She made further revealed how she was still a little girl when Gene began acting. The fan also said she was yet to see her Menstrual period when she was told she already had a child.
"I was still wearing pants and working around the streets when Genevieve started acting. They told us she had a baby. Even that time I never see my Menses.

Genevieve is 42 How many I come dey?

See Screenshot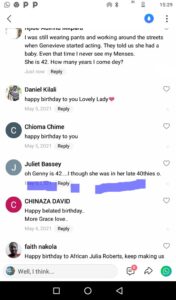 Meanwhile, it is still a blind argument for the second fan. If she had told us her current age, we can make a comparison to know if Genevieve's age is walking the same route as that of Jagagban.
Again, I don't know why some people drink Panadol on another person's headache. If Genny says she is 42, so be it. She is the only one who knows her date of birth. Even if she decides to give her age in the affidavit, it's also none of their business.
However, merely looking at her, she doesn't look 42. If actually she is being praised for her agelessness, she is expected to look younger than 42.
All things being equal, it is her birthday and her age. Happy belated birthday sha.