World's Dirtiest Man who has not Bathed for 62 Years (Amou Haji)
Meet Amou Haji the World's Dirtiest man. World's Dirtiest Man who has not Bathed for 62 Years (Amou Haji). See Photos of the World's Dirtiest Man Who Hasn't Bathed In 62 Years.
It has been reported that the man in the photos known as Amou Haji has set a new record for not bathing for more than 62 years. He has actually hit 67 years this year without bathing. He has completely avoided soap and water for these years.
The last time this record was set was by a 66-year-old Indian man, Kailash Singh, who had not taken a bath for over 40 years. But the world's new dirtiest man has not had a bath in 60 years.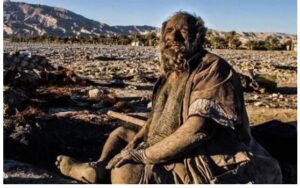 Surprisingly, he is in search of love. He's still not given up on finding love.
9jainformed.com finds out that Amou Haji has an aversion to soap and water and even the suggestion of a bath drives him crazy.
ALSO READ: This is Why Tom Tom Sweets and Cold Water is Trending Now
How it all began for Amou Haji
Haji was 80 as at the time of this report and he has not bathed for the past 62 years. This is to say that for the remaining 20 years he had lived, he bathed.
According to our findings, Amou had his last bath in 1954, put together it is 67 years without a bath. The 80-year old has lived alone in the Iranian desert for the last six decades but Amou is amorous and looking for love.
He does not have too many friends. This is not surprising anyway. Who will like to be around a stinking stone?
Did I say a stone? Yes. That is what so many people say about Haji. The kind of dirt that has accumulated on his skin and body made his skin looks like black leather.
When he is stable in a place, many mistake him to be a stone. Again, he doesn't have too many friends around for dinner.
Because of his look? No. It is because of his choice of meal.
His favorite meal is rotting porcupine meat. But he does like a sociable smoke inhaling dried animal dung instead of tobacco.
World's Dirtiest Man who has not Bathed for 62 Years (Amou Haji)
Haji Amou's last birth
In his local village, there is always a celebration of Saturday bath nights. Even those in the streets use the opportunity to have their births in a week. For Amou, it is a no.
There's been 3,120 Saturday bath nights since but the soap has still not touched the hermit's leather-like skin. He will never come near soap and water.
Once, he claimed a group of young men tried to give him a shower but he escaped before the dreaded water touched him.
What Went Wrong for Amou Haji; the World's Dirtiest man?
Amou, the world's dirtiest man was normal a teenager. Local people say he suffered an emotional setback or a broken heart as a teenager and decided to spend the rest of his life alone in the wild.
In his dirty state, he still believes he will find love. he believes someday love will come his way.
To stay healthy he drinks five liters of water from a rusty oil can every day.
And while he might not wash very often he still believes grooming is important and occasionally trims his beard by burning it off over an open flame.
After decades of living off the land near the isolated village of Dejgah in the Southern Iranian province of Fars, he has now begun to look like his surroundings.
ALSO READ: Don't Open if You can't hold Yourself: What I Gave my Tailor Versus what I Got.
He has become almost the same color as the earth around him and he totally blends in with his environment.
Haji doesn't have a house, instead, the earth is his home and he lives in a hole in the ground which is not unlike a grave.
Locally, he is known as Amou Haji. 'Amou' is the Farsi term of endearment for a kind old man But the villagers who care for him also say he is a lot happier than some people who live in large homes with comforts and conveniences.
Haji doesn't seem to have a care in the world and has nothing to lose and nothing to fear.
World's Dirtiest Man who has not Bathed for 62 Years (Amou Haji)
See Photos of Amou, the World's Dirtiest Man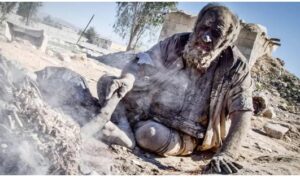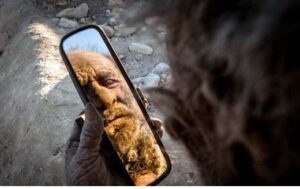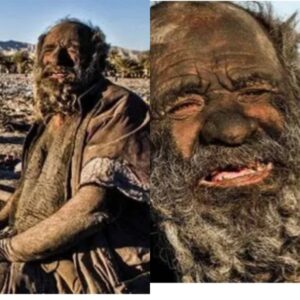 Despite his hard life, he has lived a lot longer than many in Iran and the West who have access to good food and clean water, and modern medicine.
The Summary about Amou Haji, the world's dirtiest man
Amou Haji has lived for more than 80 years. he has set a new record for the world's dirtiest man.
The previous man who held the record had not bathed for 38 years but Haji sets a new record by avoiding water for the past 60 years plus.