(VIDEO) Members of a Church Worshiping Dead Goat Crucified on Cross
End Time: Fetish Church Crucified Goat on the Cross and Worship it. Watch video of Members of a Church Worshiping Dead Goat Crucified on Cross.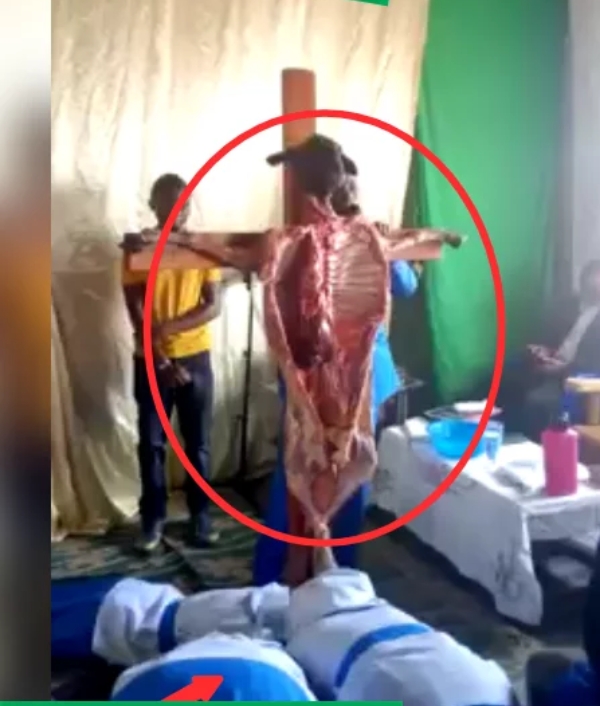 The Bible forewarned the Christian faithful of this time. It calls it perilous time, a time when abominable will be seen and done at the Altar of God.
End time signs were given to all Christian in the Gospel of Matthew chapter 24. The book of Daniel also highlighted the abominable which will take place at the temple when the end of time draws near.
This prophecy was mentioned in Matthew 24 verse 15; "Someday you will see that "Horrible Thing" in the holy place, just as the prophet Daniel said. Everyone who reads this must try to understand!" (Contemporary English Version).



So, do not be surprised when you see all sorts of evils taking place in Christiandom today. Your own portion is to wise up. "He who reads, let him understand".
I was only surfing the internet a few minutes ago when I came across a video that points to the end time. It was a video of church members who were captioned, falling on the ground and worshiping a dead goat which they crucified on the cross.
The yet-to-be-identified church members were captured on camera worshipping a dead goat crucified to a cross right inside their Church hall during service. They were seen reverence the dead dead goat and making prayers to it.
As evidenced by the photos included in this article, they were bowing down to the portrait, which was completely devoid of body parts. Personally, I kept thinking what might have led to this, and what broke my heart was seeing the pastor of the church, sitting in his chair, while his church members fell to their knees and cried out in response to this image.



According to information gathered by a correspondent known only as "Botang," who posted the video to his personal Facebook page, both children and adults were lying on the floor, shouting and chanting a song in response to the image.
From the video too, many church members were falling under the alleged power of the crucified dead goat. Some group of ladies also collapsed after being allegedly touched by the image's strength.
"The women, children, and men alike were bowing down in adoration to the crucified goat. This is a clear indication that we are approaching the end of the world. I'm also concerned about the state of Christianity.
What amazed me the most was seeing some ladies fall under anointing through the videos. This is a really serious situation, my boys", Botang remarked.
Meanwhile, a large number of people took to social media to share their displeasure with what this unknown church's members were caught doing.



Please help us make this video a viral sensation. We must continue to expose some of these phony churches that are luring people to their deaths.
(VIDEO) Members of a Church Worshiping Dead Goat Crucified on Cross