14 Guidelines for Schools Resumption by Enugu Ministry of Education
14 Guidelines for Schools Resumption by Enugu Ministry of Education. Enugu State Ministry of Education Releases Date and 14 Guidelines for Schools Resumption. See the Date here.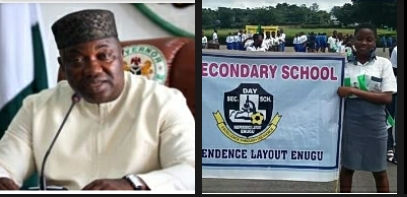 Enugu State Ministry of Education has confirmed the resumption of all schools in Enugu State, listing out 14 guidelines every school is expected to abide by to curb the spread of Covid-19 among the students.



This information has been circulated to all school authorities in the State. The agreement was reached during the consultations with major stakeholders in the education industry in the state.
See the guidelines in parts:
"ENUGU STATE GOVERNMENT OF NIGERIA MINISTRY OF EDUCATION, ENUGU ADOPTED GUIDELINES FOR RESUMPTION OF SCHOOLS IN ENUGU STATE
The Ministry of Education after due consultations with major stakeholders in the education industry in the state came up with the following guidelines which every school public, mission, or private- must meet before it can reopen and take in students:
1. There is a need for continuous sensitization on the symptoms, mode of transmission, and preventive measures of COVID-19. This is important to help the school heads on how to manage COVID-19 related issues to avoid transmission in schools.
2. Every teacher, student/pupil, or any other person in the school must put on an appropriate face mask/shield. Parents should be responsible for providing a face mask/shield for their children.
3. Every child should come to school with a personal alcohol-based hand sanitizer.
4. Regular handwashing shall be maintained. Consequently, accessories for hand washing (bucket with taps or automated handwashing machine where possible, soap, water tanks for storing water) should be available in schools.
5. Additional spaces shall be created for students in the boarding houses with more emphasis on personal and general hygiene in the dormitories. Each bed must be separated from the other by at least two (2) meters.
6. Within the period of COVID-19, no school premises should be used for any social event such as funerals, weddings. Where it is unavoidable, such a school must be fumigated immediately after the event. In such a case, approval to use the school must be obtained from the Chairman of the relevant Board or Commission. Such events can only hold during weekends.
7. In each school, the Health & Physical Education or Biology Teacher should be responsible for regular surveillance and enforcement of COVID-19 guidelines. To achieve this, they have to be properly trained.
8. In case any child manifests COVID-19 symptoms, such a child should be immediately rushed to a local Health Centre.
9. A child with a high temperature should not be allowed in school. Such a child be referred to a Health Centre for further diagnosis.
10. It will be the responsibility of the State Ministry of Education to monitor and ensure compliance with the stated guidelines.
11. There shall be no general assembly in schools. Each form teacher shall take the first five (5) minutes to pray and sensitize the students on COVID-19 related issues.
12. During school hours, no student shall be allowed to leave the school premises. Each school shall make arrangements for food vendors who in-turn must abide by the guidelines.
13. There shall be three (3) short breaks of fifteen (15) minutes each during school hours and during which students are restricted within the school premises.
14. Official duration of classes is 8.00 am to 2.00 pm Monday to Friday. All schools are, therefore, required to close for classes by 2.00 pm, except for those in examination classes".
Recall that the Federal Government of Nigeria has earlier issued an order on the date of Primary and Secondary schools resumption date. 18th of January is the date given for all schools to resume.
In compliance with the Federal Government directive, the Enugu State Ministry of Education has adjusted her resumption date to the given date. Furthermore, the major stakeholders in the State met over the previous week to discuss safety measures against Covid-19 in all schools.
It is therefore expected of all school authorities to comply with these guidelines. In doing so, the spread of Coronavirus diseases among the students/ pupils and the teachers will be minimized.
RECOMMENDED STORY:
Thanks for reading. Spread the Information.