Lagos and Abuja Shortcut Routes to travel to the East
"Sense Will Not Kill the Igbos" reactions as the shortcut routes Igbos who traveled to the East plied to beat the hike in transport fare to the East. Lagos and Abuja Shortcut Routes to travel to the East.
YOU SHOULD READ:
You won't believe what is trending on social media this media. It is to travel from Lagos State down to the Igbo land or Abuja to the East without spending half of the usual hiked transport fare.
In a Facebook post, one of the travelers who plied the shortcut route revealed it to others who are planning to travel to the East this Festive period but have no money. He said:
"See How we Maneuver the Lagos and Abuja Transport fares to the East. From Abuja to the East is no longer #20k, it is #5,000. From Lagos to Owerri is no longer #18k, it is #5,500. This is how.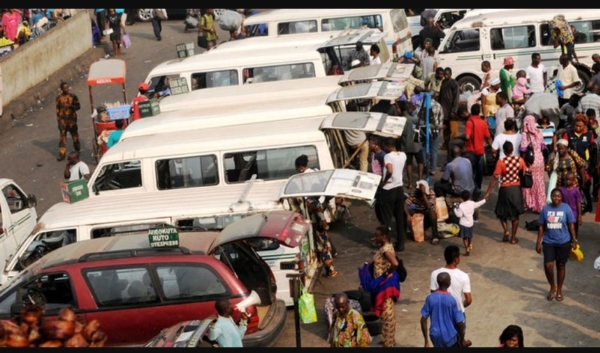 The travelers who are coming home for Christmas and New Year celebrations are lamenting about the hike in price in transportation fare. Those who are affected the most are the Igbos who are traveling from Lagos to the East and Abuja to the East. The two places are the hottest States. The cost of traveling from Lagos to Owerri now is 18 thousand naira while from Abuja to Nnewi is 20 thousand naira.
But trust the Igbos. Their big sense will not kill them. They have found another way to maneuver this high cost of transportation fare.
The people of the Igbo tribe are known for wisdom and endowed with too many 'sense'. They have the ability to manipulate and maneuver any situation they found themselves in. They don't adapt to the situation or environment, they make situations to adapt to their choice.



See how they make the calculations on how to their ways home and still save huge money from the transportation fare. Instead of paying #18k to Owerri, they cut it to #5,500, Abuja, instead of paying #20k, they cut it to #5k.
See Screenshots of the Shortcut Routes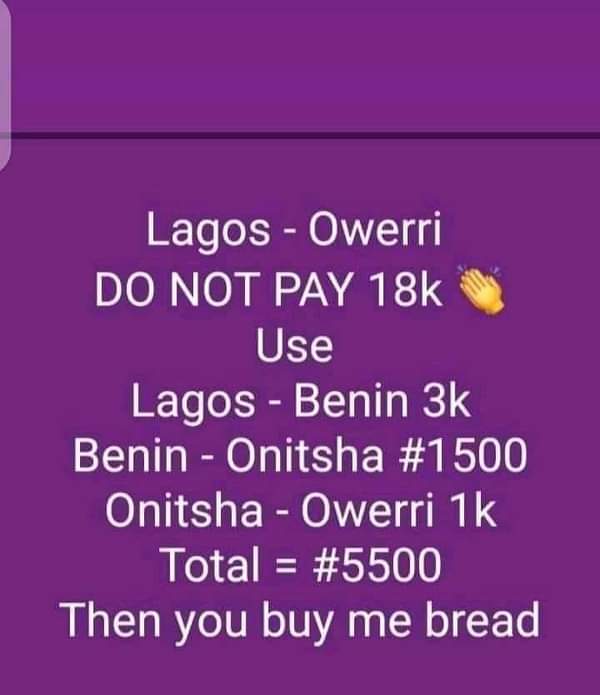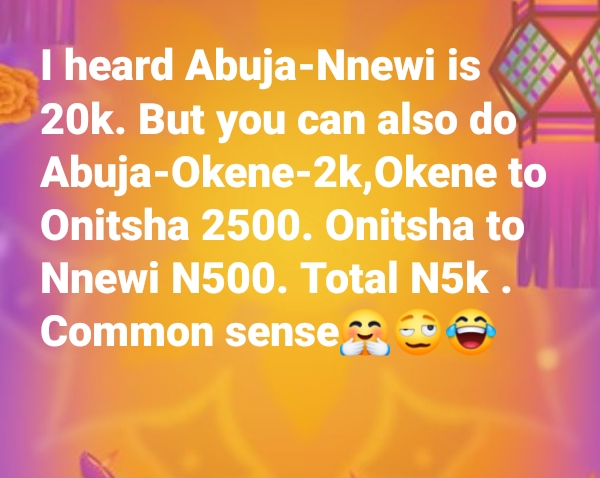 Do you see what I mean? 'Sense' will not kill the Igbos. This statement is already proved with these maneuvers they make in order to beat the hike in the transportation fares from the mentioned states to the East.
Meanwhile, this can only benefit bachelors and single ladies. These cutting corners are not for travelers with children and bags.
Lagos and Abuja Shortcut Routes to travel to the East