My candid advice to Donald Trump is to go home and rest. He has tried. He has made history by becoming the 45th President of the United States.
I am yet to see a president who is dragged to mud like Donald Trump. There so many people who do not like many things about him. The way he speaks, the way he approaches issues, the way he thinks, and the way he associates, all these nauseate some people, especially the Democrats.
One thing Trump fails to understand is that you don't force the people to like or follow. H so hates that so many will agree to be ruled by an autist instead of him. He has been boo and shouted down severe time even in the public.
I will show you mock photos of Trump that show people do not like him.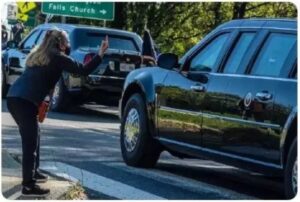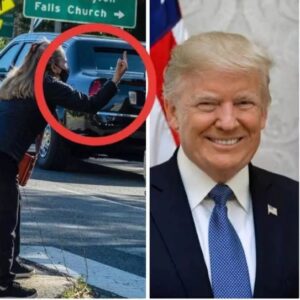 These three photos surfaced on the internet this week, during the election, and trended. The photos are part of campaign strategies to mock Trump. The first was a woman who gave Trump f**k you finger in the face. The second photo depicts Trump urinating on his supporters and they are bashing in the euphoria on his urine.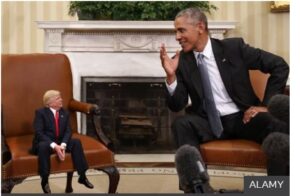 This very mock photo was done as far back as 2017. Bbc.com featured it as "Internet mems mock Donald Trump by making him look small – literally". By this mock photo, they have insinuated that Donald Trump is a child in a leader when compared with Barrack Obama, the immediate past President of America.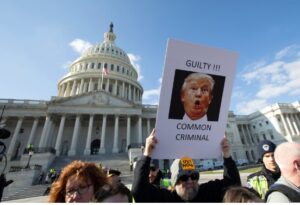 This mock phot is the loudest. This mock image was carried by a protester outside of the Capitol during the Senate impeachment trial of President Donald Trump in Washington, Wednesday, January 29, 2020.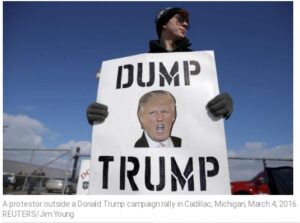 The origin of this Trump image on the body of this photo. But for the sake of clarity, I will repeat it here. This mock photo was done in 2016 by a protester outside a Donald Trump campaign rally in Cadilac, Michigan, March 4, 2016.
See other mock photos here: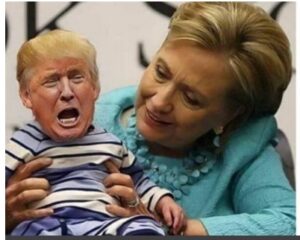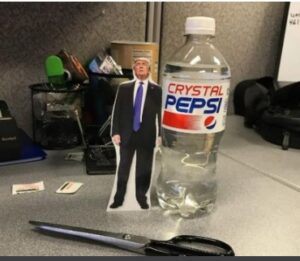 Thanks for reading. Remember to always check on us at 9jainformed.com to ask your questions and check for more updates.
RECOMMENDED FOR YOU
US ELECTION: If Not These 2 Things, Trump Would Have Won This Election Without Struggles
Anunuebe Tree Is The Most Dreadful And Deadliest Tree In The World