The Minister of State for Labour, Employment, and Productivity, Festus Keyamo, who also served as the spokesperson for the Tinubu-Shettima campaign council, has submitted a petition to the Department of State Services (DSS) over what he calls "provocative comments" made by the presidential candidate of the Labour Party, Peter Obi, and his running mate, Datti Baba-Ahmed. Kayemo Petitions DSS, Calls for Obi and Datti's Arrest, continue reading.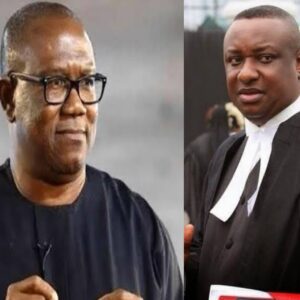 In the petition dated March 23, 2023, and made available to our correspondent in Abuja, Keyamo accused Obi and Datti of making provocative comments in recent media interviews. He also stated that he had reliable information that the duo recruited some youths to push demands for an interim government on social media.
Keyamo explained that he is aware that in a post-election period such as this, there is a need to calm frayed nerves, lower the temperature, and begin the healing process. He pointed out that the President-Elect, Bola Ahmed Tinubu, had issued a statement to this effect a few days ago. Kayemo Petitions DSS, Calls for Obi and Datti's Arrest, continue reading.
However, he observed that the Presidential and Vice-Presidential candidates of the Labour Party, Mr Peter Obi and Datti Baba-Ahmed, are not prepared to toe this conciliatory path for the sake of peace and national cohesion while exercising their rights to pursue constitutional means of addressing their grievances. Since the declaration of the Presidential election results, they have been making comments and claims about the declaration of the President-elect by the Independent National Electoral Commission that are not only provocative but also subversive of the laid-down constitutional processes for addressing disputes and grievances.
Keyamo cited comments made by Baba-Ahmed on behalf of himself and Obi on Channels Television on Wednesday, March 22, 2023. Baba-Ahmed threatened that if the President-elect was sworn in on May 29, 2023, it would "signal the end of democracy." Keyamo noted that Datti unilaterally declared the duly elected President-elect as "unconstitutional" and, in a subliminal manner, threatened mayhem if the President-elect is sworn in on May 29, 2023. Kayemo Petitions DSS, Calls for Obi and Datti's Arrest, continue reading.
While commending Obi and Baba-Ahmed for submitting their petition to the court for adjudication, Keyamo noted that their conduct and statements amounted to the subversion of the legal process they had initiated in court. Keyamo further stated that their conduct and utterances are a build-up to something more sinister, and it is important to rein them in now.
Read more: UK Threatens 3 Governors and Politicians Involved In Voter Intimidation With Visa Ban
Therefore, Keyamo submitted the petition in his personal capacity as a patriotic Nigerian to invite the DSS to arrest, interrogate and, after investigation, if necessary, charge both individuals to court for their conduct, which amounts to incitement and treasonable felony.