20 Mummified Corpses in Edo Building – Other Sides of the Story
Police in Nigeria discover 20 mummified bodies in a 'possible ritual shrine.' Three men have been arrested after bodies, including those of children, were discovered during a building raid in Benin City. In a case that has shocked the country, police in Nigeria discovered 20 mummified bodies, including those of children, in a building in Benin City. 20 Mummified Corpses in Edo Building – Other Sides of the Story.
Jennifer Iwegbu, a police spokesperson, said in a late Wednesday statement that three suspects were apprehended during the raid in southern Nigeria. Armed police officers raided the building in Benin City, Edo state's capital, on suspicion of a "suspected ritual shrine," she said.
"Fifteen mummified male corpses, three mummified female corpses, and two mummified child corpses were discovered at the scene," said Iwegbu, just three miles (5 kilometers) from the city center.
Nigerian security forces have previously discovered such shrines used by ritualists and kidnappers, but the most recent discovery is one of the most shocking in recent years given the number of victims.
Many residents arrived at the building, shocked by what appeared to be an operation hidden from even nearby neighbors' eyes. The police said it was unclear how long the bodies had been in the building and that the suspects were being interrogated. All three were young men, and the investigations included a police medical team, according to Iwegbu.
"An intensive effort is underway to apprehend the remaining fleeing suspects," she added. 20 Mummified corpses in Edo Building – Other Sides of the Story.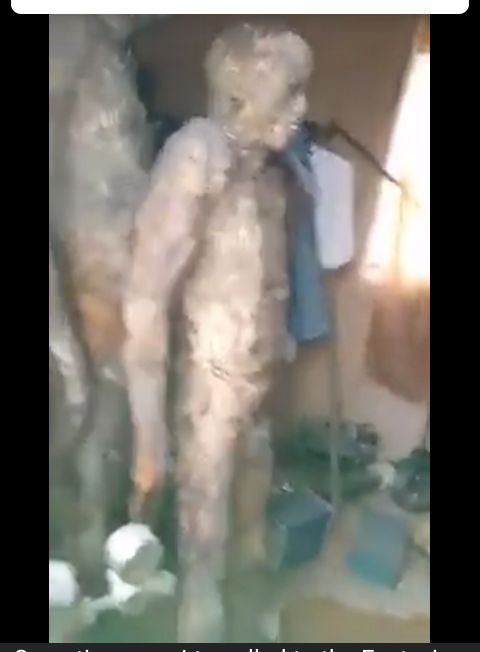 Meanwhile, other sides of this shocking story have continued to emerge as other people and the arrested suspects tell their own sides of the stories. "It is not a ritual den, it is an embalming centre". One Claimed.
"My mother's corpse is in the building. 'I Mummified her Corpse so to raise enough money for her burial". Another suspect, Osaro Nappiar said.
Another suspects, Mr Chimaobi Okewan "The owner of the place, Otu, is a mortician. He was told by his landlord to pack out. He just moved into this new apartment. Another suspects, Mr Chimaobi Okewan disclosed.
20 Mummified Corpses in Edo Building – Other Sides of the Story
On Thursday, a man identified as Osaro Nappiar explained why he kept his mother's corpse at the uncomplete building on Ekenwan road in Benin City, Edo State, where 20 mummified corpses were discovered by police on Wednesday.
Mr Chidi Nwabuzor, spokesman for Edo State, told journalists that Nappiar stumbled in just as command operatives arrived on the scene to condone off the building housing the mummified bodies.
According to Nwabuzor, when approached by police, Nappiar stated that he had actually deposited his mother's corpse in the mortuary run by one Mr Chukwuma Otu but had left in search of money to give her proper burial rites.
When questioned, the man explained that he took the corpse to somewhere on First East Circular Road, Benin City, where Otu, who is currently on the run, was operating before relocating to the Asoro area of the Edo State capital.
Nwanbuzor went on to say that Nappiar told the police that his mother died in an undisclosed hospital somewhere in Uselu, Benin. He went on to say that when his mother died in the hospital in 2021, he took his corpse to Otu, who pretended to be a mortician, for safekeeping in order to raise money for the burial.
When he (Nappiar) was able to raise funds, he went down to where the remains were kept only to discover that he (Otu) had changed base to Ekenwan Road, Asoro area, Uzebu quarters but was told to produce a card as evidence before the corpse could be handed over.
"He (Nappiar) said he couldn't produce the card because he didn't have it," Nwanbuzor explained. They invited him to return on another day, which was today. That's why he came down here to retrieve the body for burial." He produced the card, which is now in the possession of the police."
20 Mummified Corpses in Edo Building – Other Sides of the Story
He stated that some suspects have been apprehended and are assisting the police with their investigations.
Gideon Friday, one of the suspects arrested at the scene, denied any involvement in the ritualistic act, saying he only came to see if his application for the position of driver had been approved.
"I came to see if my application had been approved because I applied for a driving position here." My contract had expired, and I was informed. 20 Mummified Corpses in Edo Building – Other Sides of the Story
"When I arrived at the location to request the director, some members of the community attacked me.
"I told the assailants that I had only come to see if my request had been granted.
"They (community members) did not listen." They continue to beat me up. "They took me to the police station later," he sobbed.
Another suspect, Mr Chimaobi Okewan, revealed that Otu owns a mortuary and that when he was given a quit notice at his previous location, he relocated to his current location.
"I was supervising a POP work" The corpses discovered there were those transferred from a previous location to this one. 20 Mummified Corpses in Edo Building – Other Sides of the Story.
"The owner of the place is a mortician." His landlord told him to pack out of his house. So ,he decided to move the corpses to his permanent/ new location, which is his personal building," he explained.
Nwabuzor, on the other hand, insisted that such a structure could not have been a mortuary but a shrine stained with the blood of various animals, and that there is no signboard, indicating they run an embalming centre. 20 Mummified Corpses in Edo Building – Other Sides of the Story.
Why Mummified? What is Mummified?
The word mummified or mummification has its root and origin from Egypt. It is originally called Egyptian Mummies. 20 Mummified Corpses in Edo Building
Mummification refers to the ancient Egyptians' methods of embalming or treating the dead body. The Egyptians used special processes to remove all moisture from the body, leaving only a dried form that would not decay. It was crucial in their religion to keep the dead body as lifelike as possible. They were so successful that we can now look at a mummified Egyptian body and get a good idea of what he or she looked like in life 3,000 years ago.
Mummification was practiced for the majority of Egyptian history. The earliest prehistoric mummies were most likely unintentional. Because Egypt has almost no measurable rainfall, dry sand and air preserved some bodies buried in shallow pits dug into the sand. Egyptians most likely began intentionally mummifying the dead around 2600 BCE, during the Fourth and Fifth Dynasties. 20 Mummified Corpses in Edo Building
The practice persisted and evolved for over 2,000 years, well into the Roman period. The quality of mummification varied over time, depending on the price paid for it. Mummies from the Eighteenth through Twentieth Dynasties of the New Kingdom (ca. 1570-1075 BCE) are the best prepared and preserved, and include Tutankhamen and other well-known pharaohs. This section will describe the overall process of this time period.
How to Mummify a Corpse
It took seventy days to complete the mummification process. Special priests performed embalming and wrapping duties. Aside from knowing the correct rituals and prayers to be performed at various stages, priests also needed a thorough understanding of human anatomy. The first step in the process was to remove any internal parts that could decay quickly.
The brain was carefully removed by inserting special hooked instruments up through the nostrils and pulling out bits of brain tissue. It was a delicate operation with the potential to disfigure the face. The organs of the abdomen and chest were then removed by embalmers through a cut on the left side of the abdomen.
They only left the heart in place because they believed it was the center of a person's being and intelligence. The stomach, liver, lungs, and intestines were preserved separately in special boxes or jars known today as canopic jars. These were buried alongside the mummy. Organs were treated, wrapped, and replaced within the body in later mummies. Even so, unused canopic jars were still used in the burial ritual.
Following that, the embalmers removed all moisture from the body. This was accomplished by covering the body with natron, a type of salt with excellent drying properties, and inserting additional natron packets into the body. After the body had completely dried out, embalmers removed the internal packets and gently washed the natron off the body.
As a result, a very dried-out but recognizable human form resulted. Sunken areas of the body were filled in with linen and other materials, and false eyes were added to make the mummy appear more lifelike. The wrapping process then began. Hundreds of yards of linen were required for each mummy. The priests wound the long strips of linen around the body with care, sometimes wrapping each finger and toe separately before wrapping the entire hand or foot.
20 Mummified Corpses in Edo Building – Other Sides of the Story
Follow our Popular Posts: