Sit-At-Home on Monday 18 October or no sit at Home?
Confusion has trailed the IPOB sit-at-home order which has become a tradition every Monday for most of the Eastern cities in Nigeria. Sit-At-Home on Monday 18 October or no sit at Home?
Yesterday, some members of IPOB groups were seen in the street, protesting "No sit at home on Monday 18th October, 2021.
They gave their reason and said that Thursday 21 October is the day Maazi Nnamdi Kanu will appear in the court. This notice came at the time when the Indigenous People of Biafra IPOB are planning for a massive Sit-at home for Nnamdi Kanu on Thursday of the same week.
READ:
The Indigenous People of Biafra (IPOB) is planning another massive Sit-At-Home on Monday, 18 October 2021 in protest for the release of Maazi Nnamdi Kanu, the leader of the proscribed IPOB group who has been reprimanded in prison, awaiting trial.
In addition, they have been asked in a request by Maazi Kanu to go on dry fasting for him as he appears before the Abuja High court on Thursday, same week.
READ:
Recall that businesses and offices were hampered since two months ago due to massive sit-at-home compliance by the IPOB members, especially in the East. Even those who were not in support were affected. In some Eastern parts of Nigerian, it is no longer Sit-At -Home compliance, it is fear of ones' life.
Almost every school in the East, except borders, was on closure. Teachers and students who tried to defile the order were stranded as all the public transporters were not seen at the parks and roads.
In protest for the release of Maazi Nnamdi Kanu, members of the IPOB and Biafra agitators have set aside Mondays every week to sit at home. This move is affecting both the public and the private workers in the East. There has been great solidarity since this move for Maazi Nnamdi Kanu began.
Sit-At-Home on Monday 18 October or no sit at Home?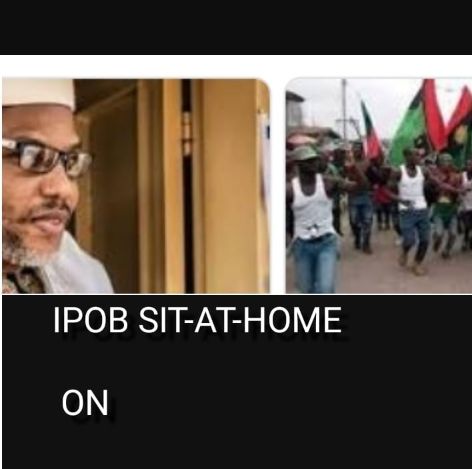 "Buhari should give ears to Biafra agitators. Igbos no longer have any shares in Nigeria." Actor Chinwetalu Agu

.
On the latest development, Barrister Ejiofor, the lawyer to Maazi Nnamdi Kanu paid a visit to him at the prison and had a heart chat with him. In the statement which he made public through his social media page, Ejiofor said Nnamdi Kanu's faith is strong. He asks for all IPOB members to go on dry fasting for him as he appears before the court
He pleaded with the members of the IPOB and Biafrans to gear up in their prayers for Maazi Kanu. He also revealed that Maazi Nnamdi Kanu is grateful for the great support and solidarity he has received so far.
In his words; he said: "We are not retreating on our struggle. There is no going back. The chains on my hands are chains on all hands of Igbos."
Frequently Asked Questions on IPOB Sit-At-Home
Will there be School on Monday 18 October?
This among others is the most frequently asked question about IPOB Monday Sit-At-Home order. People were asking whether there would be school tomorrow or there will be Sit at home as usual.
We don't know yet. Some members of IPOB were seen in the street yesterday, saying that Sit-At-Home will not hold on Monday, 18 October, 2021. They said this is to prepare people to go for their businesses against Thursday Sit-At-Home when Maazi Nnamdi Kanu will be arrayed before the court.
There will be no school as long as the majority of students and teachers are relying on public transport to come to school. The transporters are the major force behind this every Monday Sit-At-Home move. Most of the schools in the East have made Monday a no school day and shifted Monday school activities to Saturday.
I will always use my children's schools as examples. For all these while, they have not been going to school on Mondays. I asked my daughter what they were told concerning Monday 18 October, she said the Management did not tell them to come to school.
One thing I have observed about this sit-at-home is that the public transporters are the force behind it. You may decide to go to school on Monday. But I bet you, You may be stranded on the road unless you have your own personal car.
To be candid, there will be no school if there is no vehicle on the road. You just have to get ready and stay in your house and monitor how the movement is that morning before leaving the house.
Will Sit-at-Home on Monday 18 October 2021 Hold?
With what is happening in the country currently on incessant killings by the unknown gunmen, there may be a Sit-At-Home on 18 October 2021 by the IPOB members. People are afraid to go out every Monday morning.
Although they said they have decided and there is no going back in their struggle for the freedom of Maazi Nnamdi Kanu they are also considering the masses who need to go out to fend for their families. They are planning to shift the Sit at home for Monday to Thursday 21 October.
Who is sure? Who is saying the one that is the truth in Nigeria now? We will just stay in our houses and monitor how situation is on Monday Morning before deciding the next move. I am talking about who live in the city where the sit-at-home order compliance is strict.
EVIL: Man Found Boy's Penis Inside Food He bought From Local Food Vendor