Ways to Make Money Online with Just Your Phone
Ways to Make Money Online with Just Your Phone. I am not just writing just for writing sake. I want to you one of the ways I have been able to keep myself employed with just a laptop and an Android phone. That is not the only way to make money online, there are many of them. In one of the Facebook posts, Reno Omokri listed a few of them and some took the post as just hype.
Whenever I see a youth with a sophisticated Andriod and iPhone and all he or she does is going to the internet for fun, I feel sad for the person. I feel sad because he or she has the resources at hand to make him or her rich but is blind to it.
I go home every month with an average of N100K after expenditure from my online business. I mean from just writing this and you reading it, I make money. Yes.
Are you shock? It is true and there are other means you can venture you earn N500K every month with just your Phone and laptop. You can read here how to create a free blog or website and earn money online.
In this article, I will be writing on the top ten best ways to make money online anywhere you are. I will be focusing on the tips and tricks to make a lot of money from the ways I will be stating so. The good thing is that whether you are a student, a mother, or even someone that has a passion for making money online, this method can work for you.
The first question that comes to a beginner's mind when they see this kind of article is, Is making money online possible? Yes, making money online is very possible. Many people sit in the comfort of their homes and make millions. To money online in Nigeria, you can either start Blogging, Affiliate Marketing, Freelancing, Vlogging, etc.
ATTENTION:
Advantages Of Making Money Online
Making extra cash
You become your own boss
You don't have to wake up every morning to prepare for work
Even the smallest skill can make you millions
You can make money from what you love doing
The internet is a big community so you can work for people that are not in the same country as you.
From the advantages I stated above, you will find out you made a great choice wanting to learn how to make money online so let's get to business.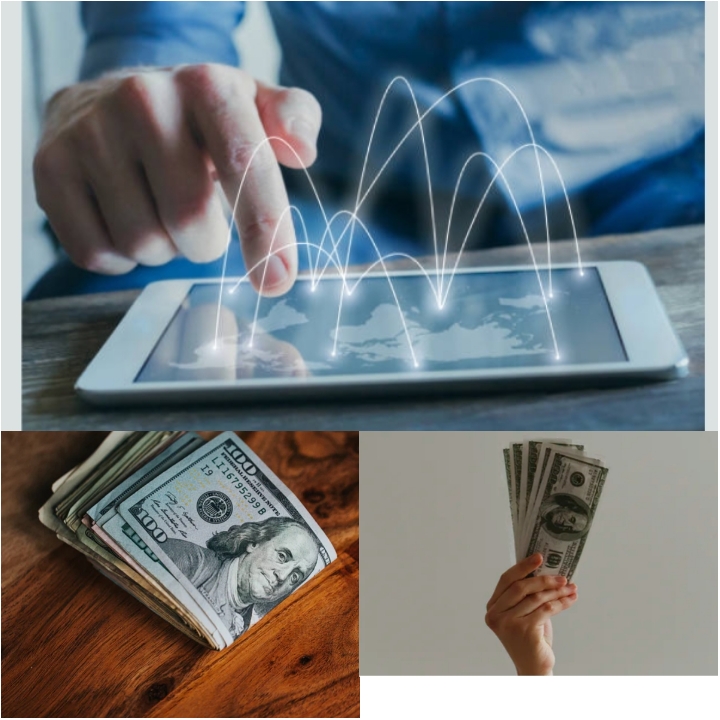 Ways to Make Money Online with Just Your Phone
Top Ten To make Money In Nigeria
There are many ways to make money online but the ones I listed above are the most popular ones
Blogging
Vlogging
Freelancing
Affiliate Marketing
Buy and Sell Bitcoin
Ecommerce
Dropshipping
Social media marketing
Virtual Assistance
Create and sell online courses
Blogging still remains the most popular way of making money online. I am a living testimony. It is a sure way to make cool money online.
Blogging is the act of sharing information and ideas. I call blogging the mother of online business because with a blog you can easily start other online businesses.
If you start getting a reasonable amount of traffic on your blog site, you can decide to start other online businesses like affiliate marketing, Sales of online courses, or even freelancing. Blogging is open to many opportunities that are just there for you to take advantage of. To start blogging as an online business, you need to own and manage a blog.
A blog is a regularly updated website. On a blog, you can share content like sports news, digital marketing guides, gaming news, and a lot more. Blogging exposes you to a lot of digital skills such as SEO, Link building, content writing, etc. Though blogging is lucrative, it takes time and hard work to achieve great results.
Vlogging is simply video blogging. It is the act of sharing information and ideas in a video format. The most popular and post-trusted tool for vlogging is youtube.
Have you been watching a Youtube video and suddenly an advert pop up? Am sure you have experienced such and it might surprise you to know that the owner of the video gets paid by Google each time you view or click on the advert.YouTubers make millions by just creating and publishing videos on Youtube.
As a Nigerian, you should know Mark Angel Comedy, the popular youtube comedian that became a millionaire through Youtube. This is to tell you that vlogging is very lucrative but just like blogging, it requires a lot of hard work to grow.
Ways to Make Money Online with Just Your Phone
This is the best I will recommend to newbies online. Freelancing is the act of using your skill(mostly digital skills) to make money online.
To start freelancing, you must first have the skill to market. The skill can be content writing, graphic design, video editing, or any services you think someone may need online. The reason I recommended this for beginners is that there are simple skills like graphic design and content writing which you can learn in a month and start making money online.
Sites like Upwork, Fiverr, and freelancer are sites you can register and market your online skill.
Affliate marketing is marketing products and services for brands and earning a commission. Affiliate marketing can be a good option if you are good at referral. You can pick up a product like canva (a graphic design service) and recommend it to bloggers or even business owners who are in need of graphics for their business.
When you do this, canva will give you commission for doing so. You can also market physical products and earn a commission. Some recommended sites to start affiliate marketing in Nigeria are Jumia, Amazon, Shareasale, expertise, and a lot more.
Quick tip-
Affliate marketing is better when you have a blog. You don't need to go around the internet looking for people to purchase your product. You can just make a blog post and market it.
Cryptocurrency is seriously taking the internet with surprise. After the massive outburst of bitcoin, many other digital coins started rising too.
Crypto money is just like blood money. You don't need to do any work, all you need do is to buy coins in large amount and keep it till they rise.
Where do you buy these coins? You can buy from registered coin vendors at a cheaper rate or you can decide to buy for a friend and resale when it rises.
Ways to Make Money Online with Just Your Phone
E-commerce is simply buying and selling products online. E-commerce business is very profitable. In fact, one of the world's richest men Jeff Bezos got his wealth from his e-Commerce business.
Starting e-commerce is not as hard as so many think. You can start by posting your product on your social media account and grow from there. The Internet made marketing so interesting, you can sell goods without even getting to see the product, this method is called Dropshipping.
All you need do is to create an eCommerce store, place products for purchase, and when a user clicks to but it will direct the user to the manufacturer. The manufactures will now ship the product to the buyer. It's easy and simple, you just have to get to work.
Dropshipping is one of the best ways to make money in Nigeria especially if you have good marketing skills. It is all about product marketing strategy where you market products without having the product.
It is also an e-commerce business but here you don't need to own a warehouse or store for your product. Here is how dropshipping works: you create an online store.
When customers make orders through you, you will now send their request to the dropshipping company who whose job now is to send the product to the customer
Social media marketing is the act of using social media to market products or services. Social media marketing can be a good way to start your online journey as a beginner.
This is because people now spend more time on social media. So, you can channel the energy you use in chatting and doing other stuff online to making money.
You can work for start-up companies that are looking for social media managers to manage their blogs. Or, you can decide to market your own products or even affiliate products.
Ways to Make Money Online with Just Your Phone
A virtual assistant is an independent worker who offers services to customers while working from a location other than the clients'. A virtual assistant generally works from home but has remote access to crucial planning materials such as shared calendars.
To start a career as a virtual assistant, you need few skills. Some of them include communication skills, time management skills, typing skills, and a lot more. The last thing I should talk about virtual assistant business is where to get jobs.
Freelance sites like Fiverr, Upwork, and freelancer are the best places to start. Register with these websites and get clients to hire you.
Create and sell online courses
This is another good way to earn money online, but here you have to have knowledge of something. Here is how it works:
Maybe you know the graphic design too well, you create a course that will teach beginners graphic design and sell it to those that need to learn graphic design. This course you will be creating can inform of an ebook, a video tutorial, or even an audio guide.
Whatever it is you want to teach people through creating online courses, you should make sure that you are a professional in that field. Another thing is how to market the course you created. You can register with Udemy or skillshare. These platforms are great for marketing online courses.
Ways to make money online – Conclusion
There are many other ways to make money online in Nigeria and any country you find yourself in. However, the ones I just mentioned are the main ones.
I don't know for others, but to be the best way to make money online is to learn a skill and monetize it. Am not really a fan of reading news and get paid or other Ponzi schemes but if it worked for you, good luck with that.
Everything is going digital so the earlier you learn an online skill the better. Best regards.