How to Produce Sweet Custard at home in 2 Minutes
Hi, welcome again to my space. Today, I will teach you how to produce sweet custard at Home in 2 minutes.
To produce sweet Custard at home, use:
Corn starch
Egg Yolk

Vanilla

Vitamin C or Nutri- C (Optional)
According to Wikipedia, "Custard is a variety of culinary preparations based on sweetened milk, cheese, or cream cooked with egg or egg yolk to thicken it, and sometimes also flour corn starch, or gelatin.,   ."
– Learn How to Produce Custard Powder at Home and Save Money
PAY ATTENTION: You can read how to produce healthy Zobo drinks at home.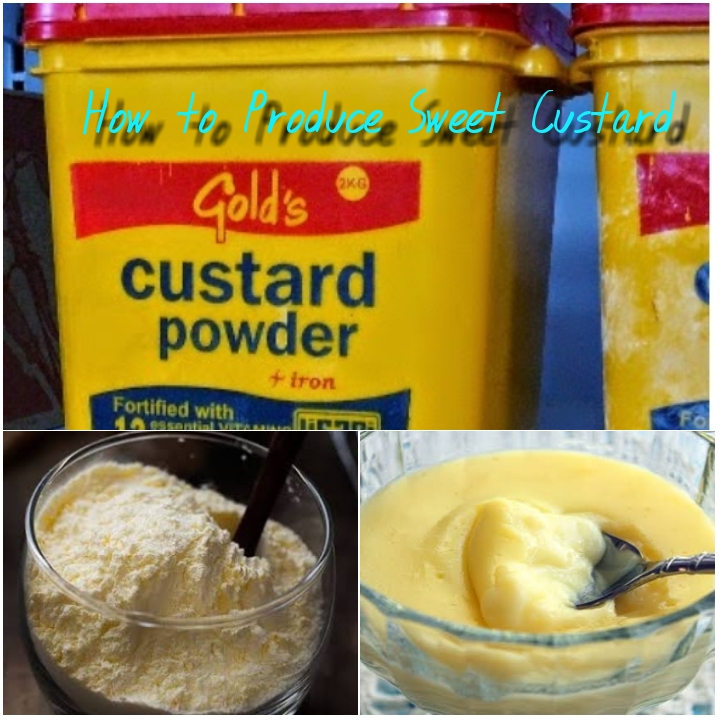 Yes. I mean you can produce custard powder in your house in two minutes and use it for breakfast or dinner.
What comes to people's minds whenever custard is mentioned? This food is taken as one complicated product for the rich and the elites. No, no. It is not as you think. Custard is among the easiest food you can produce at home with just a few ingredients and the taste will beat the ones in the malls.
It's been 5 years now in my house since I bought custard powder in the market. I produce it in my house and store it for use. Once we run out of stock, I will go to the market to buy the ingredients to process another one.
Sweet custard powder can be produced with just a few items. Apart from the items I gave above, below is another way of producing custard powder at home. They are:
To produce sweet Custard at home, you can also use:
1 Kilo of Corn starch
2 teaspoon of Egg Yolk

2 tablespoons of powdered milk flavour

2 tablespoons of Vanilla flavor

1 tablespoon of powdered Vitamin C or
1 sachet of Nutri- C (Optional)
That is all. I have to include Nutri – C here because that is what some people say they use. But when you use Nutri – C, there is no need for vitamin C.
Personally, I prefer vitamin C. I chose it because of the health benefits.
Custard powder is all about processed food. Adding more processed ingredients is not the best option. Where I have the option to choose more nutritional items, I will go for them.
In a nutshell, Vitamin C is more preferable to Nutri – C. So, I advise you to go for Vitamin C.
Steps in Producing Sweet Custard
All the items you will need in producing custard are in the markets. In fact, you can see it in one store, where baking items are sold.
The major ingredient is corn Starch. The quantity of the corn starch you buy will determine the number of other ingredients you will use.
Corn starch is from maize. It is a smooth and finely sifted white flour (not the flour from baking). It is different from baking flour. It is measured and sold in Kilo.
One kilo of corn starch is now sold for more about #400 (Naira). So, I normally buy 2 kilos. When you buy two kilos of corn starch and pour it into a big custard bucket, it will not contain it.
What you need to do while purchasing the items is going to the right shop. Once you are in the right shop for the items, you won't have headaches with the measurement.
You just have to tell them how many kilos of corn starch you want to buy. The seller will give you the accurate ingredients for the size of the corn starch.
Other ingredients I mean are egg yolk and Nutri – c (If you choose it).
Go to any pharmaceutical store and buy vitamins C (red). The color of this vitamin C or Nutri – C is what gives the custard golden red or yellow color when you are making it for drinking.
Grind the vitamin – C with either pestle or clean stone. Pack the dust or the powder back into the pack.
How to Produce Sweet Custard at Home in 2 Minutes
As I said earlier, producing a custard should not take up to 2 minutes. The steps are easy.
Pour all the corn starch into a big basin that will contain them. Add the right quantity of the egg yolk given to you and begin to turn them with your hands.
Use Tablespoon and scoop from the grounded vitamin C and pour in the corn starch mixture. If you are turning 2 kilos of corn starch, you should add up to 2 third of the Vitamin C.
That is, divide the Vitamin C powder into 3 and pour two portions into the corn starch mixture. Keep turning the mixture again with your hands or a turner.
Pour the right quantity of vanilla and milk flavor given to you in the market and keep turning. By now, your house will be filled with the sweet aroma of custard powder.
Turn it one more time for the next one minute, until all the mixtures are well mixed and good. That is your SWEET CUSTARD.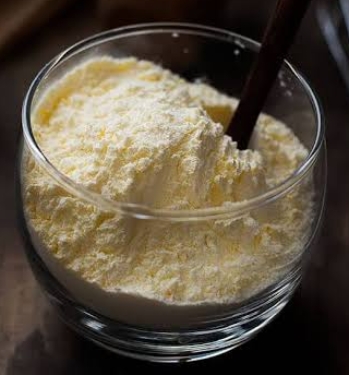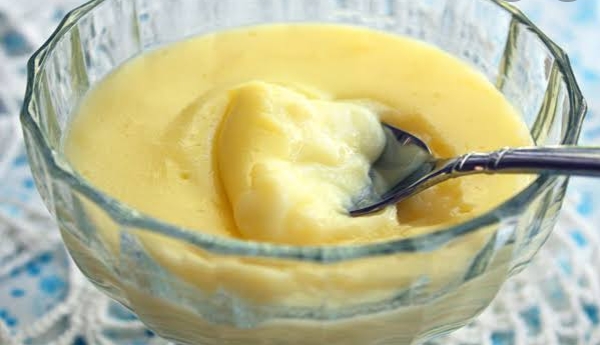 Frequently Asked Questions about Custard Production
NOTE: Custard  Powder produced with Nutric – C is sweeter than the one made with Vitamin – C. Mothers use Nutri – C to prepare it for the kids. This is because the children enjoy it more than the plain one.
Again, people say they don't need to add sugar anymore when they produce their custard with Nutric -C. As the sweetness in it has covered the need for sugar. This is also ok.
For the questions, I have been in gatherings where the production of custard was taught. Two questions kept coming from the people. One is: how do we know we are not eating over-dose of Vitamin C? The second question: 'Can I use Vitamin C together with Nutri – C to produce custard for my family?"
The answer to the number one question is there is nothing like an overdose in the amount of the vitamin C used for this quantity of Corn Flour. It becomes an overdose if you are drinking all of the custard in one day; which is impossible.
Coming to the number two question, I always say No. Why not make one choice? If you are going for Vitamin c stick to it and leave Nutri -c.
However, combining both won't kill you. Where I have a problem is in the right measurement. I mean, how to measure the right quantity.
Thanks for reading and please, remember to share the post and SUBSCRIBE to our Notification.