A  moment of silence for the architect of the legal fight for women's rights, Justice Ruth Bader Ginsburg who died on Friday, 18 September 2020. The supreme court announced her death. She was said to die of a complication from metastatic cancer of the pancreas.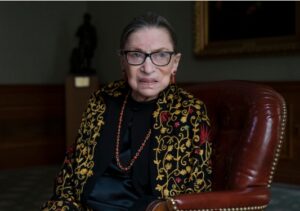 Justice Ruth Bader died at her home in Washinton, D.C. She was surrounded by her family when she gave up the ghost. She will be remembered for her tireless effort for justice. She was the architect and the champion of the fight for women's rights in the 1970s.
Until her death, Ginsburg served 27 years on the nation's court. She rose into becoming its most prominent member.
A statement by Chief Justice John Roberts reads;
"Our nation has lost a justice of historic stature. We at the Supreme Court have lost a cherished colleague. Today we mourn but with confidence, that future generations will remember Ruth Bader Ginsburg as we knew her, a tireless and resolute champion of justice."
Few days before her death, Ginsburg had her last wish dictated to her granddaughter, Clara Spera: "My most fervent wish is that I will not be replaced until a new president is installed". Her death is something the world especially the women will not forget in a hurry. Goodnight the legal tireless fighter.
News Credit: NPR.org