FG Plans On Evacuating Nigerians Trapped In Sudan Crisis.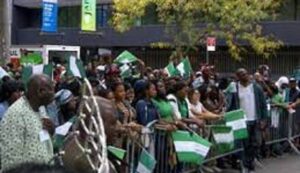 The Chairman of the Nigerians in Diaspora Commission (NiDCOM), Mrs Abike Dabiri-Erewa, has revealed that the commission is working on arrangements to evacuate Nigerians from Sudan. Dabiri-Erewa disclosed that the Nigerian Mission in Sudan and the National Emergency Management Agency (NEMA) are putting in place plans for the evacuation of Nigerian students and citizens who are stranded in Sudan. She, however, noted that the tense situation in Sudan made it impossible for any flights to leave the country at this time.
In a statement released by the Media, Public Relations and Protocols Unit of NiDCOM in Abuja, Dabiri-Erewa stated that the aircraft parked at the airport had been burnt. She added that humanitarian groups were exploring ways to get food, water, and medical supplies to the people. She appealed to the warring parties to consider the Juba Peace Agreement pronounced by the Intergovernmental Authority on Development (IGAD), noting that the agreement was a fundamental mechanism for restoring peace and tranquility in the country.
FG Plans On Evacuating Nigerians Trapped In Sudan Crisis.
The Sudan conflict is an ongoing armed conflict between rival factions of the military government of Sudan. It began on 15 April 2023, and the clashes have spread across the country, particularly in the capital city of Khartoum and the Darfur region. The fighting has intensified around the capital's airport, closing its airspace, and near hospitals, hampering evacuation efforts and treatment of the wounded. Thousands of people have been injured, and civilians are struggling with power outages and food shortages.
Despite Sudan's military and paramilitary Rapid Support Forces (RSF) announcing a 24-hour ceasefire, hostilities have continued past the deadline. However, the intensity of the conflict has reportedly dropped significantly on Saturday morning. The Juba Peace Agreement aims to achieve stability and peace in Sudan after decades of multiple civil conflicts that have killed over 300,000 people and displaced more than 2.5 million.
Read more: Pray For Tinubu's Success – Former Zamfara Governor
The situation in Sudan remains unstable, with thousands of lives at risk. It is commendable that the Nigerian government is taking steps to evacuate its citizens from the conflict-ridden country.
FG Plans On Evacuating Nigerians Trapped In Sudan Crisis
However, a lasting solution must be found to bring about peace and stability in Sudan. All parties involved must commit to the Juba Peace Agreement and work towards a peaceful resolution of the conflict.