The Nigeria Labour Congress (NLC) has pledged to resist any attempts to derail the Labour Party, which it claims is gaining widespread acceptance across Nigeria.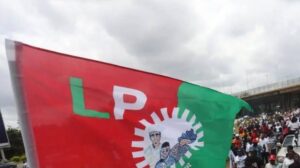 NLC Vows To Protect LP
NLC officials visited the national secretariat of the Labour Party in the Federal Capital Territory, Abuja, to show solidarity with the embattled National Chairman, Julius Abure. They promised to expose anyone seeking to take over the party's leadership and insisted that there are established procedures to follow before any change of leadership.
Speaking at the LP secretariat, the National President of the NLC, Joe Ajaero, said the party was established out of frustration over the conduct of Nigerian politicians. He emphasised that only the congress of the party has the power to approve a new leadership and until then, the party would continue to recognise the Abure-led leadership. He charged members of the union all over the country to protect the union and purge it of shady characters.
NLC Vows To Protect LP
The Labour Party has been embroiled in a leadership crisis following an Abuja High Court interim injunction restraining Abure from parading himself as the party's national chairman. Following the court order, the party's national vice-chairman (South), Lamido Bashir Apapa, assumed the position of the chairman in an acting capacity.
Ajaero said the labour movement would not allow anyone to derail the party they worked hard to recover from impostors. He urged all workers anywhere in the country to arrest anyone who illegally declares themselves as chairman, secretary, or anything and bring them to the NLC.
He warned that any group that seeks to sabotage or derail the party's ideological move will face resistance with the last drop of their blood. He added that the NLC fathered the Labour Party, and they would not abandon their child.
NLC Vows To Protect LP
Read More: Edo PDP Sweeps 3 House of Assembly Seats In The Just Concluded Supplementary Election
Ajaero stated that as the fastest-growing party, envy and jealousy were crippling in, and the people pioneering this to sabotage the party must be known. He also said they would go after the fathers of those sabotaging the party if they continued that way.