The Director of Abia State Signage and Advertisement Agency, Mr. Tony Otuonye, has been apprehended by the Department of State Services (DSS) for making threatening statements in a viral video. DSS Arrests Ikpeazu's Aide Over Death threat to non PDP Supporters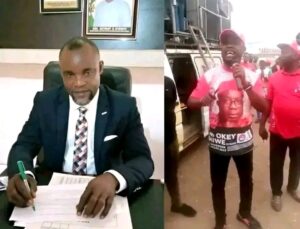 Mr. Otuonye was seen in the video issuing a warning to the Abia electorates that anyone who casts their vote against the preferred governorship candidate of the Peoples Democratic Party (PDP), Chief Okey Ahiwe, will face grave consequences including sacrifice and death. This goes against the law of the country and against democracy that no one should be forced to vote for any candidate of any political party.  DSS arrests Ikpeazu's aide over death threat.
This was as a result of the mass rejection of the political party and it's candidate by the Abians. The party which has not brought any good to the state for the past 16 years is currently at the verge of losing the governorship election. Moreover, they have already lost in some part of Abia constituencies during the last senatorial election. The hope of most Abians lie on the shoulder of Alex Otti of the labour Party and the Young Progressive Party (YPP), hence leading to the rejection of APC and PDP.
The inciting video sparked outrage among Abia electorates, who demanded his immediate arrest. The DSS responded to the public outcry by apprehending Mr. Otuonye. Additionally, the military has launched a search for his associates, who are currently wanted for questioning. They are currently on the run as manhunt is on in search of them.
Read More: APC group stages protest in Abuja, warns "Obedients"
The arrest of Mr. Otuonye serves as a stern warning to public officials and individuals against making unacceptable statements that could jeopardize the peace and security of the nation. This in future could incite violence in the State and make things to go haywire.
The public commended the effort of the military in the quick response to tracking and arresting him.