Blessing CEO #500 Million new House (Mansion) – True or False?
Okoro Blessing Nkiruka aka Blessing CEO has set the internet buzzing again over her recent claim of completing her 500 million Naira worth of Mansion which she claimed she built with her hard-earned money which she made from her relationship therapy business. Blessing CEO #500 Million new House (Mansion) – True or False?
This is actually the second time Blessing CEO has set it going for bloggers and other social media users. The first was 2 years ago when she was arrested for trying to claim Onye Eze's house as hers. She was paraded by the POlice and made the headline. Her offense was standing beside the newly completed building and taking photographs. She made a post on Instagram, claiming the house belonged to her.
She also bragged about owning a house of her own in the post. Things, however, changed a few hours later when she was seen handcuffed and paraded.m But Blessing CEO is not resting. She has given her fans and her haters what to talk about again this ending of the year.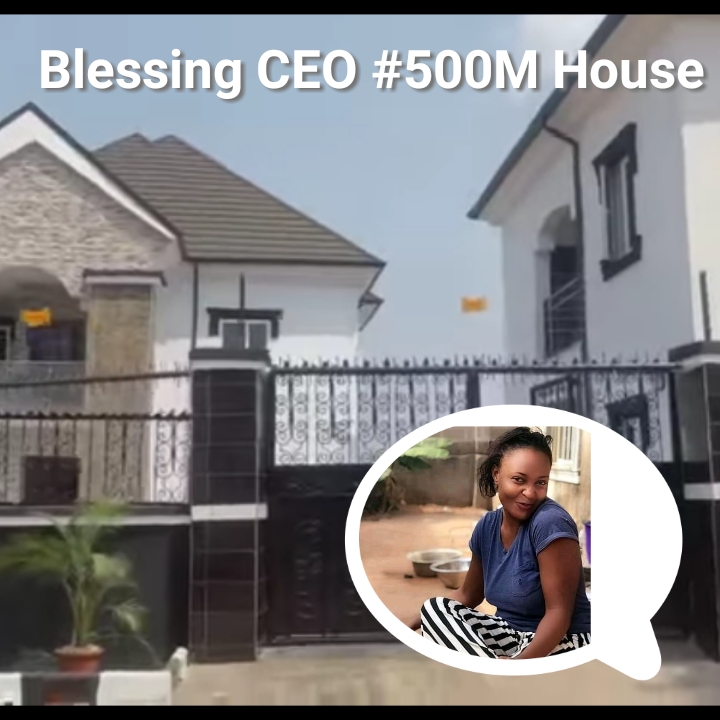 Did Blessing actually Own a house that is worth N500 million?
That is actually what we are here for. blessing CEO has made a video claiming she has finally built her own house, even better than the one she was disgraced for 2 years ago. She did not stop there. She made a video to explain what really transpired in the first house melodrama 2 years.
According to her, she said she was desperate to own her own house and have it in her 30 years birthday. So, when she was passing, she saw a beautiful house in the same area where she was building her own house, she loved the craft on the wall and wanted to find out the person who did the job. It was when she was talking with the builder that she took a photograph of the building.
So, on her birthday, she included the new house out of desperation and claimed it was hers. That was how the whole drama started out. She said she got a call from Onye Eze, the real owner of the house, and had her arrested. That was any way in the past.
This same Blessing has come up with a new claim that she has completed her own mansion that cost her about 500 million Naira. People are asking questions and doubting her claims of getting such an amount of money from her online relationship therapy business.
Reasons Why People are Doubting her Claim
She has Lied in the Past about building a House
Yes. Blessing CEO's false claim to have built a house by herself years ago still haunts her to date. People will always doubt her even if she is saying the truth.
The Feasibility of her Business yielding such an amount she claimed is Nil
I don't want to stress this point. Someone has done the analysis below. Read it and get the point. Someone said on her page that if Bklessing CEO built the house with the said amount, we owe thanks to her Sugar daddies.



Blessing CEO #500 Million new House (Mansion) – True or False?
Here are what people are saying:
"Blessing CEO… A beautiful petite lady.
Blessing bounced back after she was caught trying to claim Onyeze house as hers.
Psquare shamed her in their music. I was sad about it. Psqaure intentionally put a stamp that will remain a "forever question mark" against her. So when Blessing came back and said she was building her own house to live realities of her lies.
I was happy. I was thinking that will be a long-term project. Things started getting bad when she said she set aside #600M for the project. She claimed her relationship therapy business made #600M in under a year. This is after a year of running a relationship therapy outfit in Enugu. She showed us a beautiful house and claimed she already spent #500M. Therefore her FINISHED house is worth #500M. Let us leave gistblogger out of my post.
Let us deal with facts and figures. I hate grammar because lies and nonsense can be embedded in it.
MATHEMATICS IS A WICKED TOOL THAT LIARS HATE.
Figures will strip you naked and shame you.
_________
Enugu is NOT a rich state. The dwellers are mostly civil servants. The rich among them are mostly those that inherited generational wealth. They have class rights that are well protected by the government. They are not among those that will visit Blessing CEO for relationship therapy. I am talking about people like Ndy Onyiuke and Bianca Onoh.
With the above point, we will narrow it down to the middle-income class. In those middle-income classes, the majority are government civil servants. Their salaries are in public domains. Then the bankers and business owners at Ogbete, Kenyatta, new market, and Garriki.
A well done feasible study would've stopped her from opening such a thing in Enugu if she carried out one. As someone that knows Enugu in and out. We don't have a class of chics that will pay for a package of relationship therapy services of #250k. Enugu doesn't have such chics. I said Chic because men in Africa cannot relate to such a thing.
Every benchmark you want to use will FAIL. The business is not feasible in Enugu. Another reason is that Enugu doesn't have such men a young female middle-income earner will waste #250k to resuscitate a dying relationship.
Such men are Nass members, Senators, Otedola, Dangote, and Governors.
Ahaa….. we have only one governor that dates mature women that cook good ogbono soup. He no dey do campus girls.
____________
Now let us look at figures.
Blessing said she made #600M in a year.
Blessing therapy packages are from #50 admin to #200k package services.
Remove Enugu married women from her customer base. Married women living in Enugu cannot afford to pay #250k for their relationship resuscitation. The chances are 000000.1! There is hunger in Enugu state. Remove Enugu married men too.
The chances of an Enugu-based married man paying such for his marriage revival is almost ZERO.
This leaves us with young single girls /boys alike. The majority of this population are students. Low paid income earners whose annual salary might not even be up to that #250k.
So, who are Blessing customers in Enugu? Nearly NIL!… by Oriaku Enwe Iro
Blessing CEO #500 Million new House (Mansion) – True or False?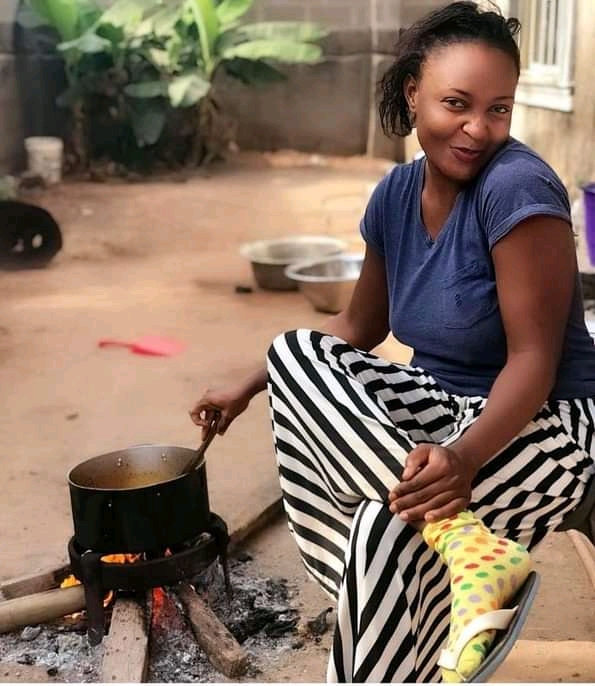 We have not answered the question of whether Blessing CEO truly owns a house that worth 500 million Naira. The truth is, it is possible. No one is doubting if she actually owns the house. We should at least wait for Landlords who traveled for the Christmas and New Year celebration to return to know if any of them will say it is his house again.
Aside from that, I am among those who said she could own the new mansion but how exactly? We know it is not from her relationship therapy business as she claimed. We are just doubting the source of her income for the new building.