Davido's new "$Echoke" Social Token – All you should know about the Cryptocurrency
The Nigerian Afropop crooner and an international multiple award-winner, David Adeleke aka Davido; has announced his newly launched Social Token, known as $Echoke Social Token (EST). This he made known to his fans via his Twitter page yesterday. Davido's new "$Echoke" Social Token – All you should know about the Cryptocurrency



Davido, the Afropop singer, has launched a social token named '$Echoke'. A social token is a cryptocurrency asset backed by the reputation of a brand, individual, or community.
What is Davido $Echoke Social Token all About?
From his announcement through social media on Tuesday, Davido said he partnered with the firm Bitsika Africa. Information from the whitepaper of the Echoke token reveals that it is built on the Binance Smart Chain (BSC).
The token promises to "provide access to giveaways, NFTs, festivals, exclusive merchandise, and other entertainment, media, and hospitality benefits."
"Happy to finally announce this thing we've been working on for a while. It's the 'Echoke Social Token'," Davido wrote.
"Use the hashtag #EchokeForHere. Every day, millions of fans create value that is captured by a few execs in a boardroom. Not any more. We're giving the power back to the fans.
"I built this with Bitsika Africa's new crypto company Omegoat on the Binance Smart Chain (BEP-20).
"Make sure to follow them. The tokens will give you free access to giveaways, NFTs, backstage passes, jobs, festivals, exclusive merchandise, media, and hospitality benefits. Join the discussion :
Telegram group: https://t.co/4mzGHa5ihd
Telegram Channel: https://t.co/DxDowMMXnb
—Davido (@davido) November 23, 2021.
How to Buy Davido $Echoke Token
Many fans of the hip-hop singer are already warming up on how to trade on the newly launched social cryptocurrency. However, it is not open for the market for now. Davido has disclosed that $Echoke Token will not be sold until in the next 12 months.
In his words, he said: "In the spirit of democracy, we will not be selling the tokens to the public. We will release the tokens to the fans through periodic giveaways throughout the next 12 months. First giveaway on NOV 28th."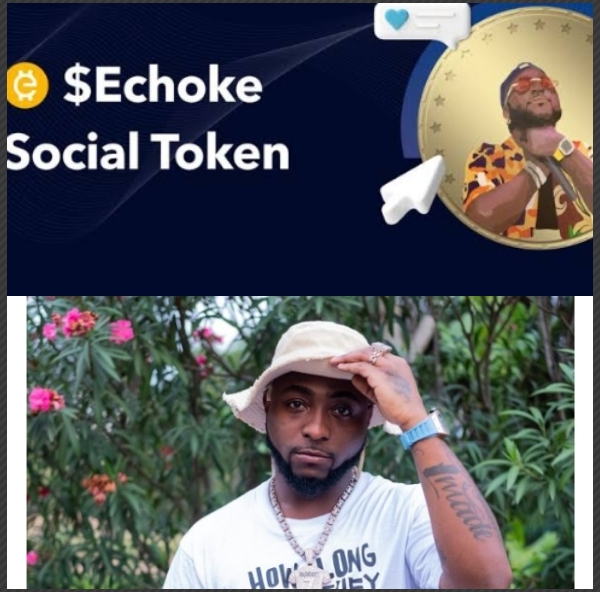 How to get $Echoke Token?
Davido has planned to make his first giveaway with the Echoke token on the 28th of November 2021. So, if you are a fan of his, you may join the discussion on the Telegram groups provided above and also follow his Tweet updates. That is how to know how and when the giveaway will take place.
The new Token name or ticker was derived from Echoke, a popular slang invented by Davido. Echoke is an Afropop slang he had helped popularise to mean "pressure". It has also been interpreted to mean "finding oneself in a regrettable mess".
Meanwhile, Davido has left many in Nigeria in awe when he raised N200 million on his birthday last week. The fund which he jokingly said he needed to clear his Rolls Royce jeep. He made it hotter for his castigators when he added N50 million to the N200 million raised to give to the orphanage homes in the 36 states of the federation.
Social Cryptocurrency
"$Echoke" cryptocurrency came at the time when Wakanda Inu, the first Africa Social Token is making a wave in the market. Wakanda Inu, with its African roots, comes from the same meme-fueled base, yet seeks to redefine how we value each other, promote social good, and elevate our social consciousness.
So, What is Wakanda Inu?
How can you explain to the layman the meaning of these trending meme coins? Simply put, it is another form of cryptocurrency but of African origin. Since the early days of cryptocurrencies, Africans have been a big player in space and one of the fastest-growing markets, yet barely any African crypto project has made it to the world stage.
Davido's new "$Echoke" Social Token – All you should know about the Cryptocurrency
How much is Davido $Echoke Social Token to Naira?
I have seen several search queries like the one above. People are asking the price of Echoke Token to Naira.  Let's get it clear here. Davido $Echoke Token is just new in the market and the music crooner has listed how he is going with it for the next 12 months.
Fo the main time, this is what Echoke social Token will be used for:
Partnering with artists,
Festivals,
Streaming apps,
Fintechs,
Parties,
Hotels,
Clubs
Giveaways and
Discounts on their services.
"$ECHOKE partners with artists, festivals, streaming apps, fintechs, parties, hotels, clubs and more to offer giveaways and discounts on their services. These partners are provided $ECHOKE tokens, and in return, they offer giveaways in exchange for the tokens as well as exclusive discounts on services," the whitepaper stated.
For those who followed BBNaija Shine ya Eyes, you will see housemates given "Abeg Naira". That money or token was only useful to the housemates inside the house. That is how Davido Echoke Token is. You can obtain it when you attend or involve in any of the listed Davido's activities.
According to the tokenomics, there will be a total supply of 2.5 billion tokens and no new tokens can be minted. Here is the breakdown of the token allocation:
Public sale – 12.5%
Private sale – 5%
Team ownership – 35%
EChoke Foundation – 10%
Product & marketing – 5%
Partnerships – 15%
Giveaways / Faucets – 7.5%
Community Treasury – 10%