–Where Is Theresa Onuorah (Queen Of The Coast)?
–Theresa Onuorah: Egedege Music And Dance goddess of the 80s
For those who know Theresa Onuora and her Egedege dance troop, they may be wondering what happened to her. Some are also wondering if she is still alive.
The name, Theresa Onuorah is familiar to many people, especially those in the South East who were born before the 80s and 90s.
Queen Theresa Onuorah a.k.a Queen of the Coast is the Egedege dance and High-life music goddess who reigned in the 80s and 90s with her Egedege troops and Ogene music melody.

(Queen Theresa Onuorah, Queen of the Coast. Image credit: Google)
Theresa Onuorah's background
Queen Theresa Onuorah hails from Unubi in Nnewi South Local Government Area of Anambra State. I have met with this Egedege highly revered Queen from afar, as a child. She was always seen in those days in the burial ceremonies and celebrations done by the well-to-do individuals in society.



This is because bringing out this Queen to perform on any occasion was not a poor man's dish. I mean, it cost fortunes in those days to have her performed in any ceremony.
Apart from the monetary and material involvement, anyone who paid her to perform in a ceremony would sign that there won't be a downpour. It meant that rainmakers and divers would be paid to be around to make sure rain didn't beat her dancing costumes.
Her Music Career
Queen Theresa Onuorah sings and dances along with her dancing troops. Her melodious voice can wake the dead from the grave.
According to Wikipedia;
Egedege dance was made popular by Mrs. Theresa Onuorah in Unubi Town. The name Egedege stems from local slang for richness and bravery which explains why the dance is considered cultural classics and is only played in a royal home or rich families.
She was called the Queen of the coast because it was rumored that an ordinary being cannot be endowed with such a golden voice. She has not debunked this claim. She, in fact, believes in the worship of the sea goddess.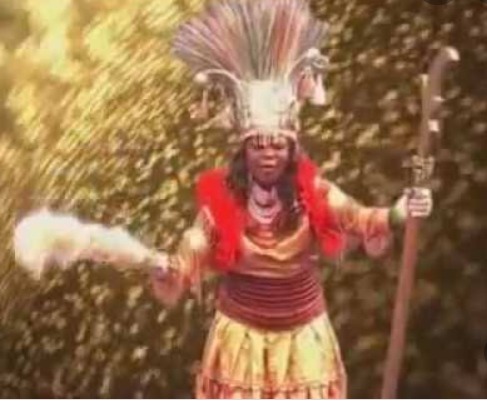 In the 90s, no one was able to successfully capture the face of this Queen with a camera while she performed on the stage. That was actually how I came to know her as a child.



My Uncle who was a cameraman fought tooth and nail to have the face of the music queen captured with his camera. Each time, she blurred the camera and blocked the view with her traditional dancing hand-fan made with bird feathers, tiny mirrors, and old shillings.
Her popular songs were: "Oba Egwu", "Onwunwa mu a chimo", "Ogene erubego, Muna one ga-agba egwu". She makes more use of flute and Ogene in her Egedege dance. She is a great dancer and she is a great singer.
The Queen of the Egedege dance and high-life music is aging physically but her voice is intact. She still sings to date. She is still alive and healthy.



Theresa Onuorah is in Unubi, her hometown, living with her husband and the children.