Bees arrested 2 thieves in Uganda after stealing TV and a Gas (VIDEO)
Watch Video of how 2 Thieves were Arrested by Bees after Stealing TV and Gas. Bees arrested 2 thieves in Uganda after stealing TV and a Gas (VIDEO).
   
Two men were arrested by bees for stealing gas and tv set in Eldoret. The Thieves Returned the Stolen Items with Bees flocking on their hands and bodies.
Earlier this week, a robbery incident in Eldoret has resulted in dramatic scenes after thieves broke into a house of a lady and made away with a flatscreen television and a gas cooker. The lady whose house was burgled went traditional and hired the services of the witch doctor.
Later in the day, two young men were seen battling with bees and having it rough with the angry invoked bees. They were seen in the street where the robbery incidence had occurred in possession of the stolen items. The items were said to be stuck in their hands.
The two thieves were forced by the swarm of bees to return all the items they stole. An eyewitness said.



This was first reported by Ravin New; "Two Thieves who stole a TV set and a gas cooker, forced to return after a witchdoctor was "Contracted" by the owner, and they were attacked by a swarm of bees."
The original story had it that two burglars who are suspected to have stolen a television set in Sofiia village, Busia Town in eastern Uganda are in police custody after they were attacked by a swarm of bees.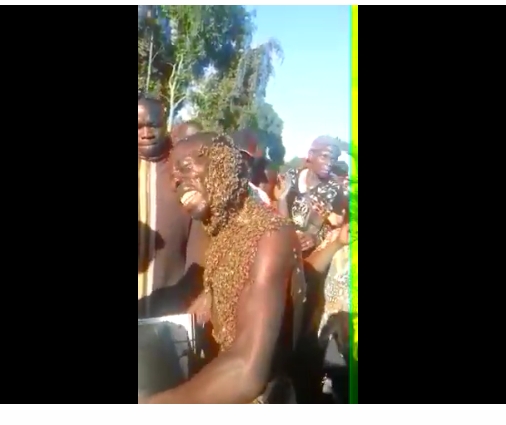 Like police would handcuff a suspect, a swarm of bees mobbed the hands of one of the suspects, while another reportedly had the TV set stuck on his hands as they returned the stolen items to where they had been picked from.
Ms. Rashida Jowelia, the owner of the property, said her TV set was stolen from her house last Friday. But she decided to seek the services of a witch doctor in Sofia Village rather than report the matter to the police.
The suspects were identified as Wycliffe Kinara and Richard Duki. Both were Kenyan nationals from Nakuru.  Bees 'handcuffed' one of them around the wrist, while another had the TV set reportedly stuck on his hands.



"I have never seen bees arresting thieves like it has happened today. They formed what appeared like a real handcuff on one of the suspects, while the other had a TV set stuck on his hands." Paul Bogere, an eyewitness and a resident said.
The suspects, however, told DailyMonitor that they were forced to steal because of unemployment.
"We left Kenya in search of jobs, thinking Uganda would offer better opportunities. But we have stayed in Sofia for four months without getting work. That is why we resorted to stealing." Kinara, one of the suspects, pleaded.
Bees arrested 2 thieves in Uganda after stealing TV and a Gas (VIDEO)