I'm Handing Over to Tinubu May 29th – Buhari Assures Nigerians.
President Muhammadu Buhari has expressed his desire to welcome President-elect Bola Tinubu to the State House as president upon his swearing-in on May 29. The president assured that the May 29 handover date to a new administration remained sacrosanct during a phone conversation with Mr. Tinubu, where the duo exchanged Eid greetings to mark the end of the Muslim holy month of Ramadan.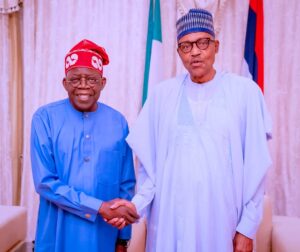 During the Eid-el-Fitr prayers in Abuja, President Buhari fielded questions from reporters, stating that democracy has a bright future in Nigeria. He expressed his conviction that Nigerians appreciate the stability of democracy, as evidenced by the outcome of the 2023 elections in which more than 10 governors failed to make it to the Senate. The president noted that this sent a message that Nigerians know the power of their votes and how to use them, adding that they will continue to vote one way or the other depending on their preferences.
I'm Handing Over to Tinubu May 29th – Buhari Assures Nigerians.
As part of his final outing as president on Sallah Day, before handing over on May 29, President Buhari hosted residents of the Federal Capital Territory (FCT), led by the FCT Minister, Muhammad Bello. During the event, the president asked for pardon from those he might have hurt while discharging his duties as President while serving his two terms (2015 – 2023). He recounted his leadership roles in the country for over 40 years and expressed his gratitude to God for the opportunity to serve the country.
Read more: Chimaraoke Advices Obi to Withdraw Petitions Against Tinubu and Join Him To Build Nigeria
President Buhari had earlier sent a goodwill Sallah Message to Muslims during the Eid-el-Fitr celebration to mark the end of the 30-day Ramadan fasting season. In the message, the president said the outcome of the 2023 elections aligned with his pledge to leave a legacy of free and fair elections in the country. He also hosted the outgoing Ambassador of the Socialist Republic of Vietnam to Nigeria, Luong Quoc Thinh, and expressed his gratitude for the country's support in areas of security and economic development, expressing the wish that bilateral relations between the two countries would continue to grow.