The Minister of Information and Culture, Lai Mohammed, has issued a response to the recent criticism he received from the pan-Yoruba socio-political organisation, Afenifere. The criticism stemmed from comments made by the minister regarding the 2023 elections. Lai Mohammed Blasts Afenifere Over Failed Investment in Obi.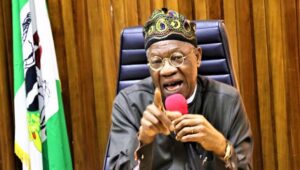 In his response, Lai Mohammed accused Afenifere of being frustrated and angry over their failed investment in the Labour Party presidential candidate, Peter Obi. He suggested that their attack on him was a result of their disappointment in Obi's unsuccessful presidential campaign. The minister went on to state that Afenifere had lost its reputation and relevance as the voice of the South-West.
The minister emphasised his position that there was no provision in the INEC laws that allowed the commission to transmit the results of elections electronically. He asserted that the entire process from voting to transmission was manual. The laws governing INEC provide the commission with the right to determine the mode of elections, collation, and transmission of results.
Furthermore, the minister responded to a call for his national apology over his comment on Obi. He stated that the Labour Party candidate and his party should stop inciting people to violence since they had already submitted themselves to the election tribunal. He urged them to stop asking people to go out on the streets and cease making reckless statements that could undermine democracy. Lai Mohammed Blasts Afenifere Over Failed Investment in Obi.
Read Mote: Northern Youths Kick Over Subsidy Removal, Threatens Protest
The minister's response to the criticism he received from Afenifere was firm and unwavering. He defended his position on the 2023 elections, citing the laws governing INEC as justification for his stance. He also expressed his disappointment in Afenifere, suggesting that they had lost their relevance as a voice of the South-West.
It can be recalled that Afenifere during the campaign for the just concluded 2023 presidential election backed Peter Obi by pledging their support for him and the Labour Party at large. The group right from the beginning of preparations for election has always welcomed competency over anything else.