How to apply for Prof Soludo Anambra Talent hunt
It is no longer news on mainstream media that Prof Charles Soludo won the last gubernatorial election in Anambra State, which took place towards the end of the year 2021. How to apply for Prof Soludo Anambra Talent hunt
However, while the entire populace of Anambra anticipate the official swearing-in ceremony of the governor-elect, Prof Chukwuma Soludo introduced an online platform created for the brilliant minds of the state interested in utilizing their talents in his tenure. The program was tagged "Prof Soludo Anambra Talent Hunt."



On Monday, which happened to be the 2022 Valentine's day (Feb 14th), he reiterated in a statement, that he is passionate about giving opportunities to anyone who possesses the ability and competence to accelerate good governance to the people of Anambra.
According to Chukwuma Soludo, he had to initiate and approve the launch of the Anambra Talent Hunt to facilitate a competitive and credible process; for the indigenes who seek interest in political appointments, volunteering, or those looking forward to work in paid public service.
"This platform is designed for Ndi Anambra to 'Express Interest' in volunteering or seeking a political appointment or career in paid public service positions. This Talent Data Bank offers a transparent and level playing field for talent search and team selection processes that are consistent with our vision," the statement reads.
"We hope to attract problem-solvers with passion, competence, capacity, and integrity who are interested in joining a team of other selfless public servants to transform Anambra State into a livable and prosperous smart megacity."
How to apply for Prof Soludo Anambra Talent Hunt
Applying to the Anambra Talent Hunt is pretty easy due to the data bank infrastructure the initiators already improvised.
To get started, head over to the online form to fill in your personal information and details. If you are interested in the Anambra Talent Hunt, you can access the form by visiting here.
During the process of online registration, you are expected to discuss your value proposition (in the relevant section of the form), which highlights the exact problem(s) you intend to tackle, your approach to providing solutions, and why you think you are the best fit in battling those problems you mentioned.
Your answers and value proposition should be clear, concise, and brief so as to place you in a better position during the shortlisting process.
In addition, ensure your answers and personal details are absolutely correct and honest before submitting the form. You should avoid duplicate applications to avoid being disqualified.
According to the press statement, the deadline for applications and online submissions is February 28, 2022. ALSO READ: How much does it cost to start a cooking gas business in Nigeria?
How to Apply for Anambra Talent Hunt FAQs
How can I avoid fake platforms about the Talent Hunt?
Last month, fake emails and platforms were being circulated for the Anambra Talent Hunt and people fall for it. Days ago, he made a public notice, debunking all of those and promised to make public the real one.
A screenshot of the public notice signed by Prof Soludo is attached below: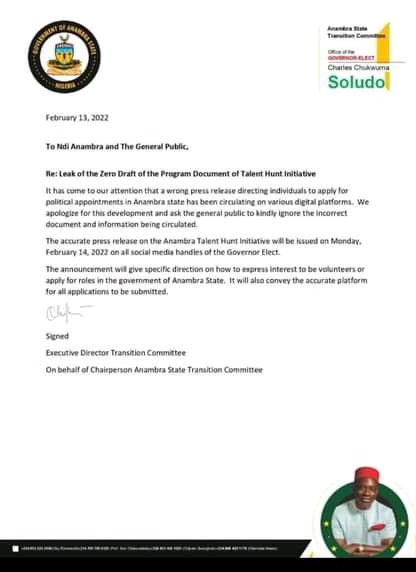 Are non-Anambra indigenes eligible for the Talent Hunt?
No! The ongoing application is only open to people of Anambra origin. People from other states in Nigeria are not eligible to apply.
Do I have to pay any fees for the Anambra Talent Hunt application?
No. The registration is entirely free. He already debunked the fake emails and platforms being used to defraud unsuspecting citizens.
How do I know if I'm finally selected for Anambra Talent Hunt?
After the close of submissions, shortlisted candidates will be contacted and informed on whatever they need to do by the initiators of the program.
When is the Anambra Talent Hunt closing application?
Online submissions will end on February 28, 2022. Click here to apply for the Anambra State talent hunt initiative.   here.