Deeper Life Injected my son with HIV Serum – Deborah Okezie
"Deeper Life Send Doctor to Mask-up and Inject my son in the hospital with HIV Serum– Deborah Okezie. Mrs Deborah Okezie has made a fresh claim and allegation. First, she refuted the claim by the Deeper School that her son is HIV Positive and alleged that he was Injected with HIV Serum in the Hospital. Deeper Life Injected my son with HIV Serum – Deborah Okezie.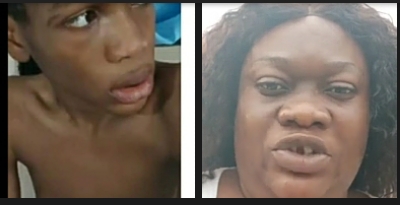 Deborah Okezie, the mother of Don Davis, the sexually molested student of Deeper life school has spit fire again this morning on social. She alleged that the Deeper Life school where his son attended sent their doctor without her knowledge to mask up and come to the St Aloysius hospital to collect the serum of his son and possibly inject him with contaminated serum.



She began the video by saying "I want to show you the hospital of the doctor who was sent by Deeper Life to mask-up and take my son's blood sample in St. Aloysius hospital". She later confirmed the Doctor is in Police custody.
"I am not fighting church oo! I am not fighting the body of Christ. I am only fighting the school that abused my son." Deborah said.
She was alarmed at the recent turn of events and the stories deeper life schools are making up against her and the son. She also condemned Nigerians and others who are attacking her and wishes her son's fate to befall them and their children.
From her story, we learned that the school hospital is insisting that DonDavis is HIV positive. But the mother is debunking this claim, saying he was injected with the infected serum. Hear and see it all for yourself. Click and watch the video.
You can drop your comment on the box and follow us for more news updates. Thanks for reading.