REVEALED: It's Not Over Yet For President Donald Trump; See What He Plans To Do To Remain The US President For The Next 4 Years.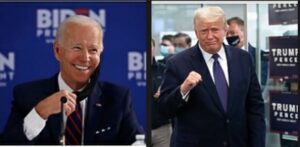 One thing people do not know is that the USA is not like every other country. When it comes to the electoral processes, she has her own peculiar procedures to decides who wins and who will eventually be on the seat. Those processes too must follow a procedure.



An expert has explained on the media that in the USA, you can rig the elections, win a landslide, and still not be the President. He gave out his own reason and says because of Amendment 12 which forbids illegitimate outcomes. He said it is not yet over for Donald Trump because there are legal resources which he is following and if it is not resolved, it goes to the House of Representatives. He says at this point, it will look as if no election happened.
The whole thing will boil down again to another election but from the House of Representatives. Every Legislature in each state will just cast a vote and there are 50 States. And guess what?
There are 37 Republican Legislatures! For Trump, he said it is really over until it is over.



If all things being equal and every step mentioned here is followed by the incumbent President of the United States Of America, Donald Trump, he is sure for another 4 years. Joe Biden may have been declared as a winner by a landslide but he may not occupy the White House.
Time will tell. We are just watching.