Ozalla Community In Enugu Protests Killing of APGA Guber Aspirant, Demands Justice.  Residents of Ozalla community in Nkanu West council area of Enugu State have protested the killing of Dons Udeh, an APGA gubernatorial aspirant. The community members were dressed in black and carried various placards to protest the killing. Mr Udeh was kidnapped on April 22, and his decomposing body was found on April 26 at 9th Mile Corner, Udi local council.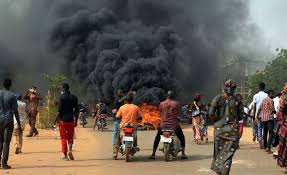 The Ozalla Development Union (ODU) submitted a protest letter to Governor Ifeanyi Ugwuanyi, expressing their resolve to treat the case as a matter of great importance and to avoid it falling into the bucket of numerous unresolved murder cases. The president-general of the union, C.N.N. Nwagbara, signed the letter and handed it over to Governor Ugwuanyi.
The ODU expressed their worry that the deceased could be murdered in a cruel manner that depicted the public execution of the medieval era. The union added that the gruesome murder had traumatised the community. They also said they had decided not to take laws into their own hands, being law-abiding citizens, and are therefore constrained to write to the governor's office, knowing his penchant for due process and unblemished integrity.
The community called on the governor to conduct an intense forensic investigation into the killing, to reveal the perpetrators behind it and bring them to book as soon as practicable. The governor expressed concern over the sad incident and assured the Ozalla community of his commitment to ensuring that hoodlums had no place in Enugu.
Ozalla Community In Enugu Protests Killing of APGA Guber Aspirant, Demands Justice
Obiora Okwuibe, the convener of #JusticeforDonsUdeh, said the community had yet to heal from the kidnap of a traditional ruler from Ozalla Etiti. He called on the government to come to their aid and stop the cases of adoption in their community, which he said were becoming alarming.
Read More: Senate Appeals, Intercedes For Ekweremmadu and Wife Hours To Court Sentencing
In conclusion, the community has called on the Enugu State government to ensure justice is served for the murder of Dons Udeh and to put measures in place to curb the growing trend of kidnapping and other criminal activities in the state.