The United Kingdom has recently announced that it is working on a list of individuals who will be subjected to a visa ban. According to the Deputy High Commissioner to Nigeria, Ben Llewellyn-Jones, the mission has already compiled between five and 10 names, but more will be added in due course. 10+ Politicians to Expect Visa Ban By The U.K, Kayode Reacts.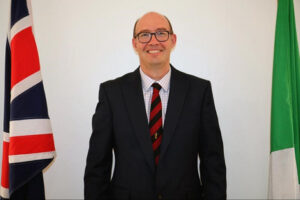 Llewellyn-Jones was speaking on a current affairs program on Nigerian Info on Sunday when he revealed that the names of those on the list will not be published, despite some expectations to the contrary. He explained that there are laws in place that protect the identities of individuals who are subject to visa bans.
The British High Commission had previously stated that it was prepared to take action against anyone who engaged in or incited electoral violence during the recent general elections in Nigeria. The Commission had said that it was collating the names of perpetrators and would impose sanctions, including visa bans or human rights sanctions.
Llewellyn-Jones reaffirmed this commitment on Sunday, stating that the mission was gathering information about specific individuals. He also revealed that the UK had been closely monitoring events in Nigeria during the election period, with personnel on the ground in key locations. 10+ Politicians to Expect Visa Ban By The U.K, Kayode Reacts.
When asked about triggers for violence leading up to the elections, Llewellyn-Jones pointed to controversial statements made by a member of the ruling party, Femi Fani-Kayode. He lamented that the party had not distanced itself from Fani-Kayode's comments.
The Deputy High Commissioner also condemned the divisive politics that played out during the election in Lagos, stating that if the city could not be a cosmopolitan melting pot of culture, language, and other vital elements, it would struggle to succeed.
However, Fani-Kayode took issue with Llewellyn-Jones' comments, accusing him of interfering in Nigeria's internal affairs. He argued that Nigeria was no longer a British colony and did not need any lessons on how to run its affairs or conduct its politics. He also accused the envoy of supporting a particular candidate in the presidential election.
Read Also: Sanwo-Olu orders payment of N5 million to an uber driver
Despite these criticisms, the UK appears determined to follow through on its commitment to impose visa bans on those involved in electoral violence in Nigeria.