The Chairman of the Independent National Electoral Commission (INEC), Prof. Mahmood Yakubu, has denied allegations that he attempted to manipulate the results of the Abia State governorship election. INEC Denies Attempt to Falsify Abia Guber Results, continue reading.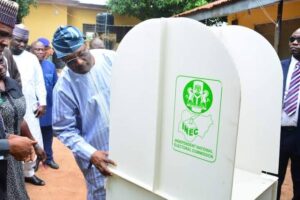 The allegations, made by the Returning Officer for Abia, Nnenna Oti, through a portal called Strenuous Blog, claimed that the INEC Chairman had given her directives on guidelines to follow in ensuring that the election results were collated based on certain criteria. However, the Chief Press Secretary to the INEC Chairman, Rotimi Oyekanmi, has clarified that the only communication sent to the Returning Officer was the commission's directive suspending further collation of results.
Oyekanmi explained "The INEC Chairman, Prof. Mahmood Yakubu never called the Returning Officer to give her a directive.
Rather, the Returning Officer wanted the official communication on the Commission's decision to suspend the collation of results in Abia State. "The Chairman then directed that pending the delivery of the hard copies, the soft copies of the Commission's letter be forwarded immediately to the Resident Electoral Commissioner of Enugu State and the Administrative Secretary of Abia State. INEC Denies Attempt to Falsify Abia Guber Results, continue reading.
"The Returning Officer for Abia State then directed that the content of the letter should be read aloud by the Administrative Secretary in the presence of agents of political parties, observers, the media and security personnel at the Collation Centre.
Read More: "It is shocking…" Peter Obi replies Chimaraoke Nnamani
"This is what is now being mischievously interpreted as a directive to the Returning Officer on some phantom criteria at variance with the approved guidelines. There is nothing like that.