Short Lace Gowns Styles and Auto Gele
The lace material is a fine open fabric of cotton or silk, made by looping, twisting, or knitting thread in patterns and used especially for trimming garments. It is also used for making whole garments. And this is the aspect we want to talk about.
Gown lace styles are common types of materials that are worn more often among African women to ceremonies or occasions. Short gown styles are among the popular outfits seen on these occasions. Short Lace Gowns Styles and Auto Gele
Just like Ankara fabrics which can be made with different designs and styles, Lace materials can be used to make so many beautiful styles. The way we have Ankara Long gown styles, Ankara Short gown Styles, Peplum Ankara Blouse, Long Skirt and Blouse Ankara for weddings, etc, this is also the same way we have them in Lace material designs.
Nigerian Lace Gown fabrics can also be made into different patterns of Aso-Ebi styles such as New Short Lace Gown Styles or long flowing lace gown style, it all boils down to the styles you want to curve out of it.
When you talk about Short lace styles, it is a different thing altogether. I said so because, in Nigeria, the style looks elegant and perfect on ladies and makes them stands out in all kind of ceremonies or occasions.
Short Lace Gowns Styles and Auto Gele
Short Lace Gowns Styles and Auto Gele
Those who saw our previous articles on Ankara styles have testified that we have eyes for great fashion. Our picks are always superb. In this piece, we promise to deliver as usual.
Are you a lace material lover? I mean, if you adore lace dresses. Just count on us. There are different lace captivating dresses pictures here.
Another good news we wish to drop here is that lace materials are no longer for the rich aole. It is now affordable. Those who are familiar with sample materials in lace know that it is now very affordable.
But you should know this too. Whether you buy a lace material costly or not does matter. What matters is how best it fits or looks on your body. A well-made lace material looks gentle, charming, and beautiful.
To achieve that elegant look with the lace clothes you need to consider some factors which are the perfect quality of fabric with matching style to bring the fitting out, to look stunning at a glamorous party.
And also, there are awesome off-shoulder short lace gown styles that are elegant & perfect for your outing. Check the pictures below out!
Off-Shoulder Short Lace Gown with Auto Gele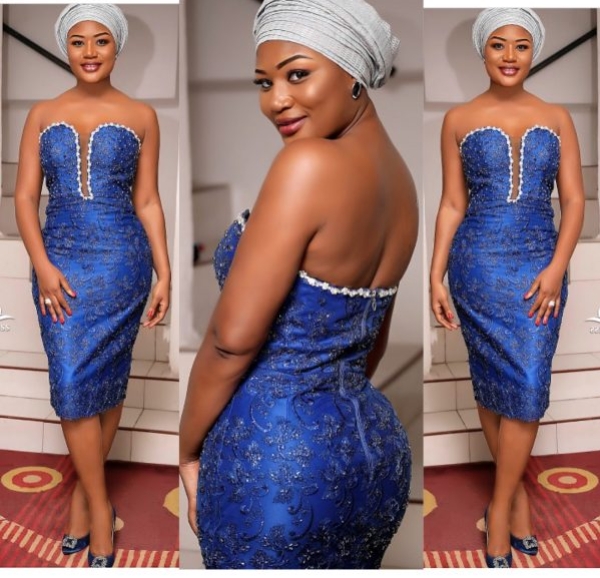 Trending Lace Short Gown Styles with Auto gele



Three Factors you must Consider before Choosing a Lace Material
You must consider your color and the color of the material young are going for your lace choice.
Some are yet to understand that skin colour plays an important role in fashion. For example, a color that is too shouty is not ideal for very bright skin color.
Inner material for Transparent Lace materials.
Transparent lace materials are sewn with Inner materials to cover the lace openings. When you don't choose the inner color wisely, you will end up making a mess of the lace style.
The Designer who will handle the style
All tailors and seamstresses have now become fashion designers. But hear this now, every tailor can sew clothes, not all tailors can make good designs. I can sew, I sew, that how 6 yards waste just like that. Always go for a good fashion designer for your lace gown styles.
Short Lace Gowns Styles and Auto Gele
Short Lace Gowns Styles and Auto Gele
In conclusion, Lace Materials Short gown designs are ideal for Aso-Ebi, wedding guest wears, parties, church, thanksgiving, and other special occasions. The materials are affordable and come in various classes.
Like I advised earlier, when you get your own material for short lace gown styles, go for a qualified fashion designer.