How Much Money Do Bloggers in Nigeria Make or Earn from their Blogs
People are always asking how much money do bloggers in Nigeria make from their blogs? I have also seen questions like: How much do new bloggers in Nigeria make in 2021? Or, is blogging still profitable in Nigeria?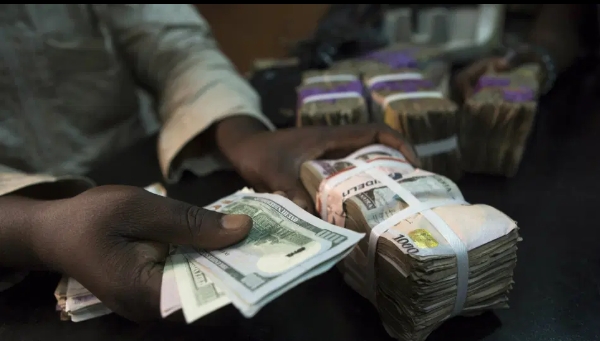 Forget whatever anybody tells you about no earning or low earnings in blogging in Nigeria. You can as well disregard my view too. But there is money in blogging, even this 2021, people are cashing out big.
Bloggers in Nigeria even those who are new beginners in blogging can make anything around $10 to $50 monthly income in his or her first 7 months of blogging or even above. I mean those who are beginners in blogging.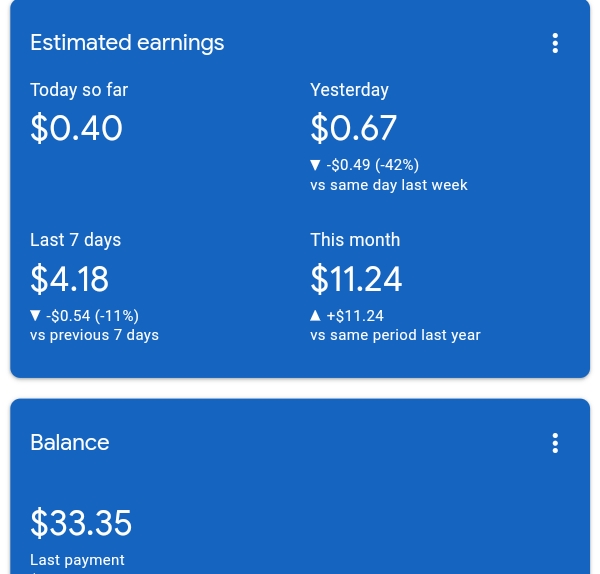 I want to tell you right here now that there is money in blogging. Nigerian bloggers are making it and are cashing out. Here is my own blogging story.
In case you are wondering why the discrepancy in the months of the blog and the earnings, it is because I monetized it two months after.
Do Bloggers in Nigeria still make Money in 2021 from their Blogs?
This is a heading that is not good to be missed in this topic. I said so because many people now say that blogging use to give money before to bloggers in Nigeria but not anymore. My brother, this is a pure lie.
Why am I even using "my brother"? I am a woman, a mother of 4 kids at that and I am a blogger too. So, my sister, there is money in blogging and it is not meant for the young guys alone.
I want to share my blogging story here. In case someone is giving up on blogging, you need to read it. If someone is discouraged going into blogging, you need to read this too.



Bloggers in Nigeria and Blogging
Meanwhile, according to statistics, 35 percent of Nigerian youths are into blogging. 70 percent who are into it are graduates who are unable to secure jobs after school.
So, they resort to blogging. The remaining 35 percent are into blogging for the passion and as a hobby.
But the majority of all of these bloggers are quitting blogging daily because of the mindsets they had before venturing into it and it is not coming forth.
They probably read that the famous Linda Ikeji makes about $1,500 daily from her blog. So, they joined the club, tried for 3 months, even for 6 months before quitting. Some even tried for 1 year and quit.
I started blogging in 2017. I must say that I began as a novice. There was no one to guide me and I knew nothing about blogging.



During these years, I did a little research. The blog lasted for 2 years and expired. I never renewed it.
However, in September 2020, new zeal for blogging was born in me again. I began afresh. I set a plan.
Before then, I have decided on the niche I wanted before going into the second phase of blogging. (The first one, I didn't even know the niche).
Bloggers' Challenges in Making Money from Blogging
It is not only enough to ask how much money do bloggers in Nigeria make? It is also necessary to find out what they do right or wrong in blogging.
For you to start succeeding in blogging in Nigeria in 2021, there are two things you must do. You must take your mind away from cashing out money today or tomorrow. Earnings from blogging are like rain dew.
It drops gradually and before you know it, forms drip, from dripping, it will form rains. The second thing which you must do is feeding your blog with original content. Desist from copy and paste. Even if you want to write what other people have written, form your own words.



There is money in blogging and bloggers in Nigeria are making money from it. Don't let anyone deceive you that blogging no longer gives money as it used to in Nigeria.
Today, I am 7 months, 3 weeks, and 4 days into blogging. This is my 4th month's stats.
It will be wrong to show you my present stats without telling you how my stats looked like before now. I started with zero stats, then cents ($0.09), and then 1 dollar. See the Screenshots.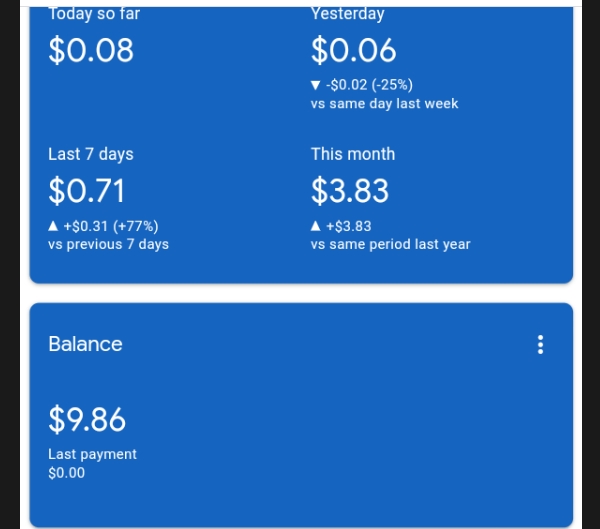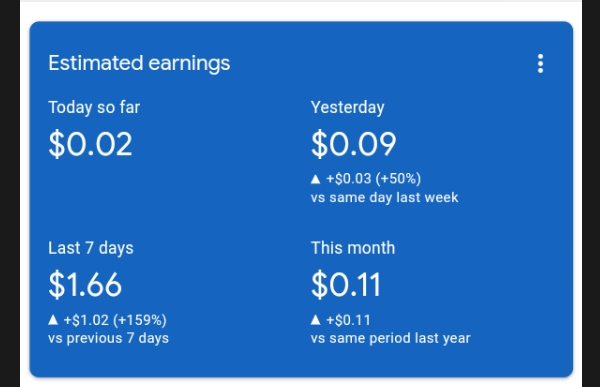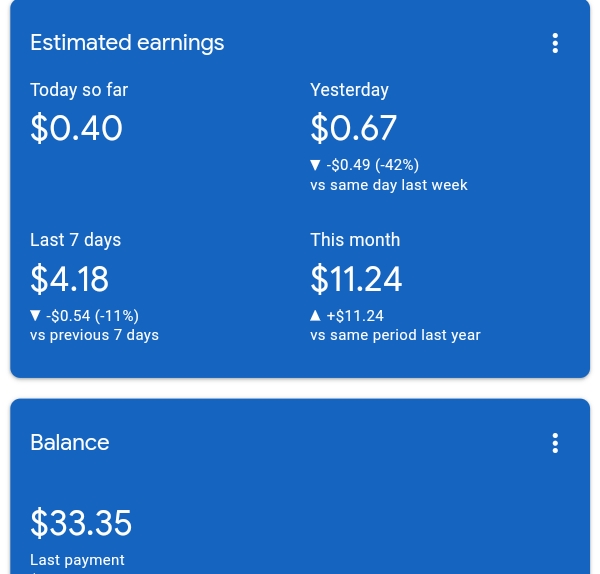 The above screenshots are my Second, third, and fourth months earnings for my new blog. You will notice that the earnings kept increasing.



Things that help me to Make Money from my Blog
We are asking how much money do bloggers in Nigeria make in their blogs? It is also good we state what bloggers in Nigeria do in their blogging to earn the money.
Creating quality and Original Contents:
If you don't know how to write a good and quality article, please, don't waste your time opening a blog. Or, if you don't have the resources to hire good writers for your blog, don't just waste your time.
There is no beating about the bush here, in blogging, you sell content. Visitors to your blog are attracted by the kind of content you provide for them.
A good article on your blog will fetch you money even in ten years' time. I don't play with what I post on my blog. I also go the extra mile by making the contents a-1000 plus words.



This is a virtue every blogger needs to possess. If you don't have this virtue, you will be frustrated out of blogging.
I remembered my four months into blogging, the ads network I am using for monetization placed my ads limit on my blog and it refused to be lifted for getting three months.
This was not the first time I had the issue. However, I never let it bother or discourage me. I continued feeding my blog with content not minding my zero-earings daily status.
Time went and it was lifted and with the grace of God, I have passed the stage of ads limit. This challenge comes to every blogger who is monetizing with Adsense. I am thinking it is their method of accessing the authenticity of the activities going on on the new blog.



Whatever you do as a blogger, put away deceit. This is another virtue that has helped me to grow in blogging. You see those groups that promote; "click for click" trick, avoid them. Also, avoid self-click, no matter how they teach you to maneuver it.
I have never done any of these I have mentioned above. Today, I am happy I didn't and I am not gonna do them.
Blogging requires genuineness in your dealings especially if you monetize your blog with ads network like Google Adsense. Just be calming down. (Mango wey dey up go ripe if storm no come).
There are so many ways to make money with your blog. I know many big blogs like Neilpatel.com that do not use ads network on their sites. They make money through affiliate marketing.



These groups of people may discourage you when you enter into an argument with them as regards the best monetization for your blog. They always uphold affiliate markets and talk down on advertising networks.
Let me tell you, all of them is good as long as it is working for you. I have never ventured into affiliate marketing. This is because it is not for everyone. I may not succeed if I use it.
Monetization with Google Adsense is the secret behind all my earnings in my blog. Getting their approval may be difficult sometimes but if adhere to their policy, it won't be hard.
I applied for Google Adsense ads and I got their approval to run their ads on my site within 24 hours. You just need to have a few numbers of content on your blog like 40 before applying and do not be haste to apply immediately.
Among these points I have mentioned here, this is the one that has helped me the most. The guy who built my blog absconded immediately after I paid and left me in the middle of nowhere.
If not for these groups, I would have picked up again. When I mean Facebook groups, I mean blogger groups. I joined "Bloggers in Nigeria"; Bloggers Helping Bloggers"; "Nigerian SEO and Bloggers".



Day by day, issues related to blogging are raised and tackled in these groups. Questions relating to blogging are asked and answers by the experts in the groups.
I got all the blogging problems solved through those groups.
This is one of the things I learned in one of those groups I mentioned above, free of charge. I can handle on-page and off-page SEO on my blog now. For bloggers to make much money, SEO must be integrated.
SEO stands for Search Engine Optimizations. It entails the prerequisite for your blog and content rankings on the Google page. This is the koko in blogging.
As a blogger, when you start getting Google search traffic massively, you are big already. There are other ways of driving traffic to your blogs like social media pages and other referrals.
However, Google traffic remains the best. SEO knowledge will help you know the right keywords for every content and how to place them.
Before my articles began to rank on google, I did share them on different platforms. At that time, one thing was to write good content, another is to get readers to read them.
There are platforms you can share your posts to attract readers. I created Facebook pages and share my articles on them. I also got registered with NairaLand.
In NairaLand, once you are able to drive traffic from there to your blog, you have are good to go. Adding your blog link there will also boost your blog DA and Backlinks.
The Sum on How Much Money Do Bloggers in Nigeria make from their Blogs
How much money do bloggers in Nigeria make from their blogs? Let no one discourage, there is huge money in blogging everywhere, even in Nigeria. People still make money from blogging in Nigeria this 2021.



Our problems are; we hate following the rules and cutting corners. Some bloggers also lack patience. He will open a blog today and instated of working hard to develop his or her own content, he/she will be doing copy and paste work from the big and small blogs.
The moment you begin to feed your blog with plagiarized content, that is when the gods are after you and the God in heaven 'will go punish you' for that.
Relax and learn from my story. Bloggers in Nigeria make money in blogging. Bloggers in Nigeria cash out from their blogs every month. I can make it as a mother with busy schedules, you too can.
Congrats in Advance.