A senior advocate of Nigeria, Chief James Ogwu Onoja, filed an ex-parte application in the High Court of the Federal Capital Territory Abuja, against the National Chairman, Mr. Julius Abure, the National Secretary, Alhaji Farouk Ibrahim, the National Organizing Secretary, Mr. Clement Ojukwu, and another individual. Abuja Court Bars LP National Chairman, Others Over Alleged Forgery.
On Wednesday, Justice Hamza Muazu granted the application and issued a restraining order against the four individuals, preventing them from acting as National Officers of the Labour Party LP.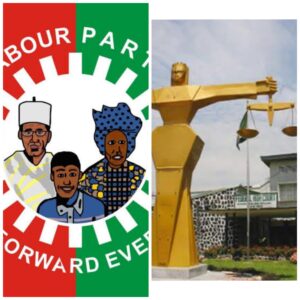 According to Onoja, the restrained national officers were allegedly involved in several criminal activities, including forging documents of the FCT High Court to carry out unlawful substitutions during the last general election.  
These documents included receipts, seals, and affidavits of the Court. Onoja presented several documents to the court, confirming that the Chief Registrar of the Court disowned several documents used for the alleged criminal activities by Abure and three others.  
Read More: Travelling To New York for Tourism – All You Must Know and Do
The police investigated the matter and indicted the four individuals, and warrants for their arrest have been obtained. The court ruled that the application and supporting affidavits presented a good case for the request to be granted. Consequently, Justice Muazu ordered the four individuals to stop acting as National Officers of the Labour Party immediately. Abuja Court Bars LP National Chairman, Others Over Alleged Forgery. 
They are yet to be arraigned before the court for the allegations tendered against them. The other officials of the party are yet to comment on the case. It is unknown why the officials made such decision, as it stands now, only the court can prove them guilty of falsification of documents. Investigations are still going on to ascertain how the officials got access to the seals and what prompted them to forge the certificates.